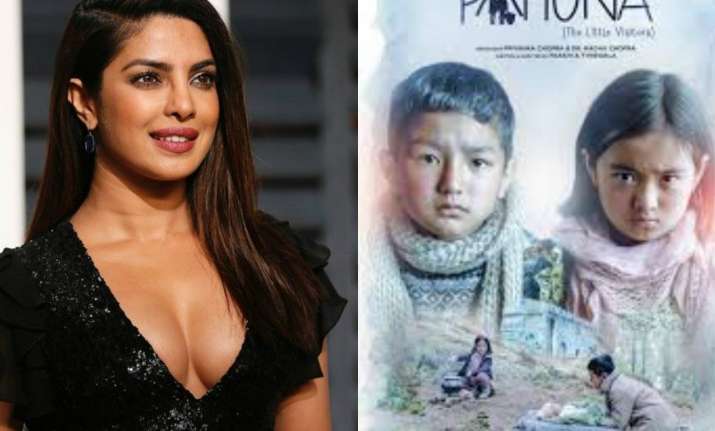 Busy bee Priyanka Chopra who is skillfully managing her shoots and production work calls her Sikkimese venture as her ''passion project''. The Desi girl was present at the Toronto International Film Festival for the premiere of Pahuna: The Little Visitors. She is deeply connected with this movie as it gave her an opportunity to make the voice of the north-east region heard on the silver screen, says the actress.
Purple Pebble Pictures, which Priyanka co-owns with her mother Madhu Chopra, has produced the film. The film opens with insurgent violence forcing people in a Nepalese village to flee to Sikkim. Little Amrita, her brother Pranay and their baby brother Bishal are among those fleeing with their parents, relatives and other villagers. As these people flee through the mountain forests, the little kids are told some frightening fireside stories by one of their uncles that Christian priests in white kidnap children and eat them.
In the deep jungle, Amrita and her two brothers get separated from the rest, and the film depicts how they survive by sticking together, how their fear that Christian priests are kidnappers almost comes true and how their story finally ends happily.Speaking at the film's world premiere here, Priyanka said, "It was a hard film to shoot because it is not an easy region and there were shooting difficulties but Paaki and her team and my mom braved through it."
She said the film aims to put the spotlight on India's ignored north-east region and innocent children who get caught up in the violence. "This (north-east) is a part of India which does not get seen too much, does not get too many people coming and visiting. But it is a little piece of heaven.. the stories, these kids and the perspectives that you saw when it comes to conversions, when it comes to religion, when it comes to kids being replaced and not knowing their parents and where they are going...it is such a special and important story and I think Paaki told it very well," said Priyanka.
After writer-director Paakhi A Tyrewala was ''sick of being rejected'', she approached Priyanka who gave her the approval. Paakhi says that at least 9-10 producers didn't show interest in the subject.
(With IANS inputs)