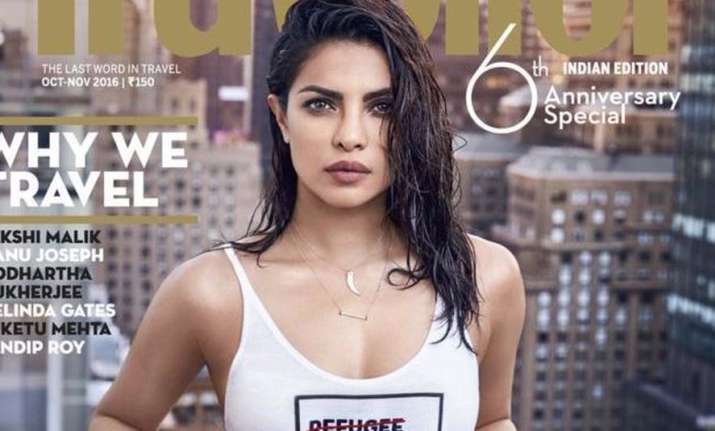 It's been a week when actress Priyanka Chopra was slammed over her photo shoot for Conde Nast Traveller India magazine. Priyanka was targeted because of the quote on her t-shirt which was deemed as insensitive and insulting towards refugees.
While her photo shoot raked up a controversy on Twitter, the actress has now apologised for hurting the sentiments of people.
The travel and lifestyle magazine released the cover picture of its sixth edition on social media in which Priyanka was wearing a tee that suggested that she was a traveller and not a refugee.
This quote didn't go down well with the Twitteratis who called out at PeeCee for showing her privilege and insulting the refugees.
Bold and fearless, @priyankachopra makes a statement on our 6th anniversary issue cover. #PCinCNT #WhyWeTravel pic.twitter.com/phtSE1ihVw

— Condé Nast Traveller (@CNTIndia) October 7, 2016
Affected by the hullabaloo, Priyanka, during an interview to a leading channel, clarified that the motive behind the quote was highly misunderstood.
"They (Condé Nast) specially got this (t-shirt) made and implored me to wear it. They said they were addressing xenophobia which is a big issue that is happening", Priyanka said.
She further stated that though the idea behind the magazine cover was to bring out something good, she is regretful for upsetting people around.
Earlier, Condé Nast Traveller magazine too had released a statement clarifying that their aim was to break down the walls, challenge the issue of xenophobia and create a border-free world. The magazine clarified that they had a reason to rope in Bollywood actress Priyanka Chopra for the magazine cover, which had nothing to do with fashion or priviledge.
"Priyanka Chopra—a star at home and abroad, who has experienced firsthand the opportunities that travel offers—is the perfect ambassador. It's not about her being a refugee or immigrant or outsider; it's about her, like us, recognising the power of travel", the statement read.
Priyanka Chopra has been one of the few Bollywood celebs who have managed to carve a niche for themselves in Hollywood. The actress has been winning accolades for her performance in American series 'Quantico' and will be soon be seen hitting the big screen with her debut Bollywood movie 'Baywatch' opposite Dwayne Johnson.