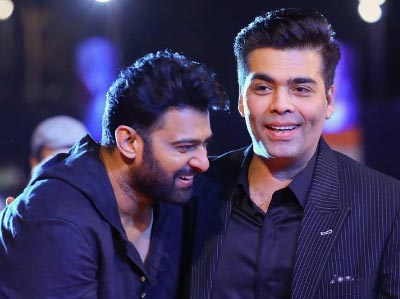 To celebrate the mammoth victory of SS Rajamouli's Baahuabli: The Conclusion, Karan Johar is all set to throw a lavish success bash. However, Baahubali Prabhas won't be a part of the event, fresh reports suggest.
The Tollywood star is busy holidaying in the US and will only return in time to start his next film, a source told Deccan Chronicle.
Prabhas left India soon after the movie was released because he could not take the post-release pressure. Now, he is not ready to meet people and party", the source added.
Also Read: Will Prabhas watch Baahubali with his fans?
Meanwhile, buzz is that Karan wants to wait for Prabhas to return to India before hosting the Baahubali success party.
However, it's unlikely that Prabhas will join the party. He is not the socializing kind at all. He doesn't drink and can barely exchange hellos with strangers, informed the source.
It is also interesting to note that Prabhas missed the London screening of Baahuabli 2 as well. However, director Rajamouli, producer Shobu Yarlagadda and actress Anushka Shetty attended the event.
Baahubali: The Conclusion is creating tornado at the box office. The movie has grossed Rs 860 crore worldwide and is inching towards 1000 crore mark. Along with Prabhas, the flick also featured Rana Daggubati, Anushka Shetty and Sathyaraj in pivotal roles.