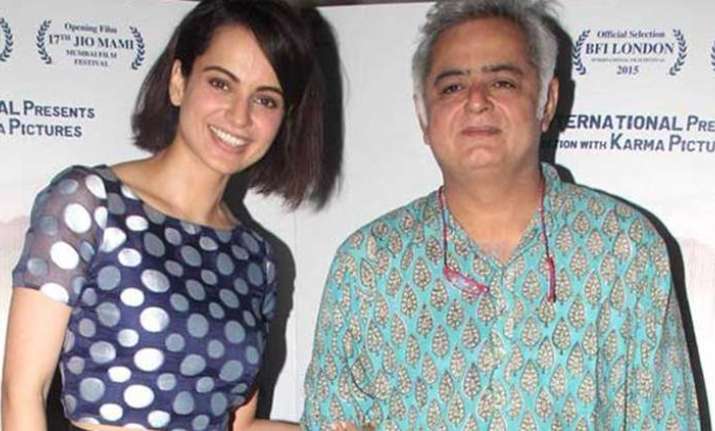 Director Hansal Mehta, who has directed actress Kangana Ranaut in his upcoming film Simran, has reacted to the reports of the actress being unhappy with the trailer of the film. Speculations were rife that Kangana took over the editing. Hansal thrashed the rumours saying that it angers him that people always make Kangana part of their stupid gossips. He added that the lady is a valued friend. Few months back, the teaser of the film was released that showed the quirky side of Simran played by Kangana.
"All this speculation is false, malicious and totally fabricated. I collaborate closely with my team and my actors are an integral part of that collaboration. It angers me that every time some malicious gossip has to be spread, people meaninglessly drag Kangana into their stupid machinations. She is a valued friend, actor and collaborator. Period," Mehta said in a statement. 
The report also claimed that Mehta believed director Vishal Bhardwaj should have listened to Kangana's advice during the editing of Rangoon. 
Mehta, however, said it was malicious to bring Bhardwaj's name into the gossip as he shared a close friendship with the director. 
"I'm even more hurt that some malicious person chooses to drag my relationship with Vishal Bhardwaj into this malice. 
Vishal is one of my dearest friends and if I am making films today it is because of him. I would never say anything that could remotely even hurt or upset somebody I love so dearly and to whom I am so grateful," he added. 
Film's producer, Bhushan Kumar, said the report that Kangana was calling the shots during the editing was "completely false". 
"We all work as a team and her feedback on every promo and plan is crucial. At the end, the film is a director's vision and the film campaign will stay close to that only." 
The film was lately in news when its writer Apurva Asrani accused the lady and the director of depriving him of proper writing credit. 
(With PTI Inputs)