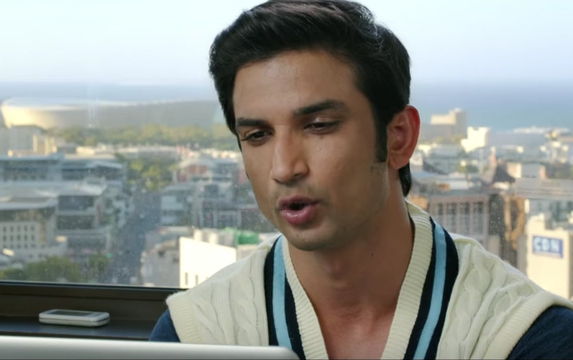 Makers of the much-anticipated 'MS Dhoni: The Untold Story' do not appear to have the movie embroiled in any sort of controversy. A clear indication of this came when director Neeraj Pandey decided to edit a scene that had a mention of Indian cricketing stalwarts Saurav Ganguly, VVS Laxman and Rahul Dravid.
In one particular scene from the film seen in the trailer, Dhoni -- played by Sushant Singh Rajput – is seen getting into an argument with the selectors over dropping three seniors.
In the scene, that has created quite a buzz, a selector can be seen telling Dhoni- "Yeh teenon ko nikaalke rukne wala nahin hai" to which he had replied, "We're all servants, and we're all doing national duty."
However, a leading daily suggests that the three mentioned in that scene were Dravid, Ganguly and Laxman. Since naming the cricketers may have opened doors to controversies for the movie, the makers decided on applying self-censorship.
Incidentally, the Central Board of Film Certification (CBFC) did not suggest a single cut in the movie.
Confirming the last minute cuts, director Neeraj Pandey said that the sequence from the trailer has made it to the movie, but they deleted the names. Neeraj said that he had discussed this with the Indian cricket team's skipper for limited overs Mahendra Singh Dhoni, about a year and a half ago. Back then, Dhoni had asked Neeraj to take a call on the sequence during the final edit.
Neeraj said that they deleted the names to avoid ruffling feathers unnecessarily since that was never the intention of the movie.
Dhoni had faced a lot of criticism after Dravid, Ganguly and Laxman were dropped from the ODI team in the 2008 Commonwealth Bank Series. Ganguly not playing for the ODI team had particularly stirred a controversy back then.