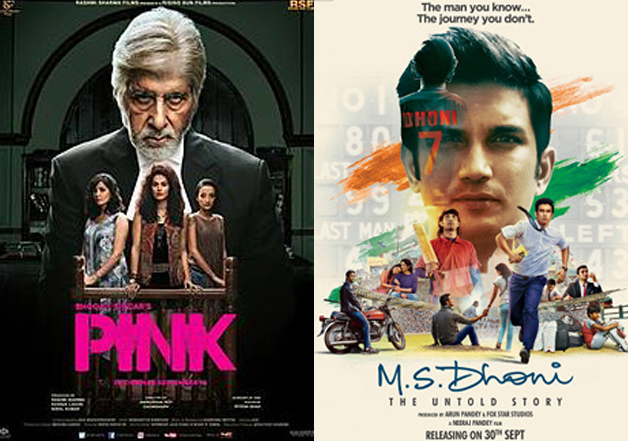 Owing to the positive word of mouth, Amitabh Bachchan starrer 'Pink' changed its fate at the box office. After a below average opening on first day 'Pink' picked up pace in the days following its release on September 16, 2016. But the dream run of this movie may soon be stalled by the much anticipated movie 'MS Dhoni: The Untold Story'.
By Tuesday, 'Pink' had earned Rs 53.10 crore at the box office. Going by the growth the movie has shown, it may go on to mint a total of Rs 55 crore. But once the Sushant Singh Rajput's releases, 'Pink' might not be able to attract footfalls.
The biopic of star cricketer and skipper Mahendra Singh Dhoni has got fans across all ages excited. Directed by Neeraj Pandey, the movie is being extensively promoted across all platforms in every quarter of the country. The lead actor of the movie Sushant Singh Rajput is leaving no stones unturned to tell how this movie is inspirational and deserves a watch.
Meanwhile, the production house Fox Star Hindi struck another stroke by releasing the movie in 3,500 screens in India itself. The movie will simultaneously release in Telugu and Tamil languages, which will add up to its first day collections.
With such a wide release, 'MS Dhoni: The Untold Story' is expected to mint close to Rs 20 crore on its release day itself. It should be noted that superstar Shah Rukh Khan's 'Fan' released in 3000 screens and its first day collection amounted to Rs 19.20 crore. Another movie which had seen such an extensive release this year was 'Sultan'. This Salman Khan starrer opened in approximately 4000 screens in India that resulted in the movie collecting Rs 36.54 crore on the first day itself.
Another factor which adds to the frenzy that the biopic has created is the fact that the trailer had crossed 3 million views on YouTube in less than 12 hours. Since the reception of the trailer speaks volumes about the exhilaration among fans, the first day may see bumper opening.
The biopic releases on 30th September and has Disha Patani, Kiara Advani and Anupam Kher in pivotal roles.