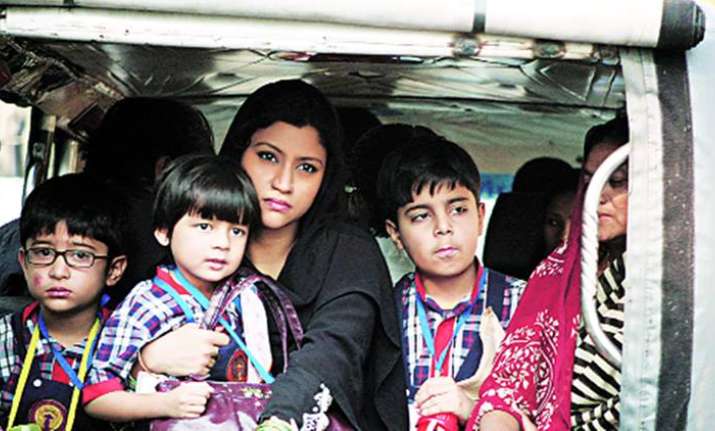 Director Alankrita Shrivastava's 'Lipstick Under My Burkha', which was denied a release certificate by the Central Board of Film Certification will be the opening film at the 15th edition of Indian Film Festival of Los Angeles.
The film festival will take place from April 5 to April 9 in Los Angeles.
'Lipstick Under My Burkha' recently won the audience award at the Glasgow Film Festival.
Revolving around four women -- a burqa-clad college girl, a young beautician, a mother of three and a 55-year-old widow who rediscovers her sexuality -- "Lipstick Under My Burkha" features actors like Ratna Pathak Shah, Konkona Sen Sharma and Aahana Kumra.
"As India's diverse array of talented filmmakers continues to be recognized around the world for their compelling and daring work, IFFLA is extremely proud to collect the best films from emerging voices and experienced masters and present them to Los Angeles," said Mike Dougherty, Director of Programming, in a statement.
"Lipstick Under My Burkha" has been deemed too "lady oriented" in content and according to the censor board, it is laced with sexual scenes and abusive words. But this is also a film that won a gender equality award at the Mumbai film fest last year, and recently won the Audience Award at the Glasgow Film Festival.
IIFLA, which will conclude with Shubhashish Bhutiani's directorial "Hotel Salvation", will also features documentaries like "The Cinema Travelers", "Machines" and "An Insignificant Man". There will also be 10 short films in nine languages including Gurvinder Singh's "Infiltrator", Amar Kaushik's "Aaba" and Sonejuhi Sinha's "Miles of Sand".
Films by debuting directors like Konkona Sen Sharma's "A Death in The Gunj", Ananya Kasaravalli's "The Chronicles Of Hari" and Padmakumar Narasimhamurthy's "Billion Colour Story" will also be showcased.
A host of filmmakers including Adoor Gopalakrishnan, who will make US premiere of his film "Once Again" in Malayalam, will attend the fest. Suman Mukhopadhyay will be making a North American premiere of his Bengali film "Incomplete".
(With IANS Inputs)