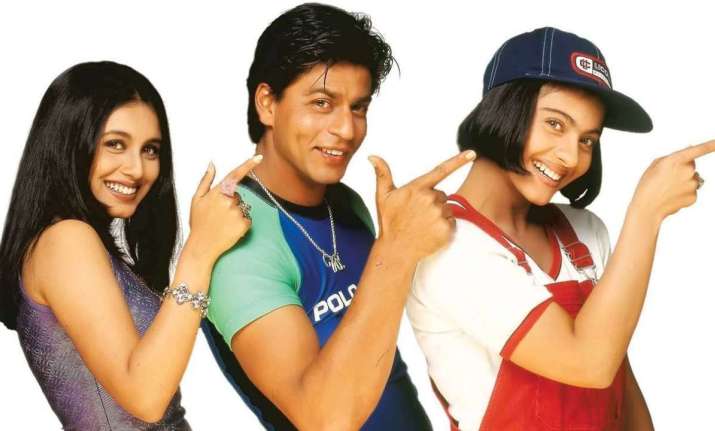 It's been 18 years since filmmaker Karan Johar ventured into direction with 1998 release 'Kuch Kuch Hota Hai'. The movie not just did wonders for KJo, but also became a cult classic.
The romantic comedy starring Shah Rukh Khan and Kajol in the lead role, featured Rani Mukerjee as a supporting actress along with Salman Khan in a cameo.
'Kuch Kuch Hota Hai' has been one of the most memorable movie of 90's and gave a new definition to love and friendship with its iconic dialogue "Pyaar Dosti Hai".
Not just the movie was loved for its concept of love triangle and friendship turning into love, KKHH also set up several trends like playing basket ball wearing tracksuits, Miss Bragenza's skirt-suit, friendship bands and not to forget SRK's 'cool' chain.
While the magnum opus caught the entire generation, Karan Johar recently confessed that considering the present trend, he wouldn't have made KKHH ever as it is a very silly theme.
"Everything was wrong, but it was written with so much conviction that it made sense", said KJo.
Indeed, 'Kuch Kuch Hota Hai' had a magical impact, that despite almost two decades of release, the fans can narrate every single scene of the movie at a gun point.
But just like every movie, KKHH too had some behind the scenes facts.
So as 'Kuch Kuch Hota Hai' celebrates its 18th anniversary today, we bring you some of the lesser known facts about the blockbuster movie.
1. Karan Johar wanted to cast Twinkle Khanna as Tina in 'Kuch Kuch Hota Hai'. He was so keen to rope in Khanna that he even proposed to change the character name as Twinkle. However, the idea was dropped after Twinkle Khanna turned down the movie.
2. Tina's role was later played by Rani Mukerji, who was recommended to KJo by Aditya Chopra. It is being said that Adi was quite impressed by Rani in her debut movie 'Raja Ki aayegi Baraat'. On the other hand, Rani too was keen to do KKHH as she was smitten by the script in the first go.
3. Karan also wanted to have Rani's voice in the movie dubbed. But changed his mind later and Rani's husky tone became her signature later.
4. We all remember Salman Khan for his adorable performance in 'Kuch Kuch Hota Hai'. But he too wasn't the first choice of the makers. Instead. Johar wanted to cast Saif Ali Khan in the movie. But Saif's loss became Salman's gain as he won Filmfare Award for Best Supporting Actor for his performance.
5. Not many of us have noticed that filmmaker Nikhil Advani and Farah Khan too have played a cameo in 'Kuch Kuch Hota Hai'. The two were seen as a couple during 'The Neelam Show' in the movie.
6. Kajol got seriously injured during the shooting of the song 'Yeh Ladka Hai Deewana'. She fell from the cycle during the sequence and lost her consciousness.
7. 'Kuch Kuch Hota Hai' is based on the much popular Archie comics.