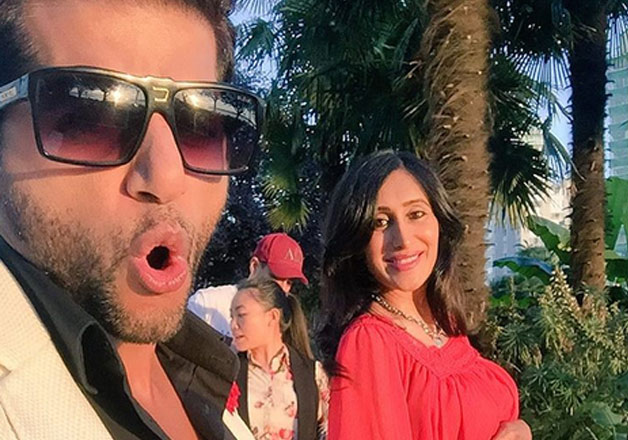 Television actor Karanvir Bohra's wife Teejay Sidhu, who is in last trimester of her pregnancy, recently had a baby shower at her residence.
Baby shower is the celebration of the beginning of a woman's journey of motherhood.
Teejay's baby shower was organised by her gang of girls with an autumn theme, as the soon-to-be mommy has her delivery due in November.
Dressed in a Pink dress, Sidhu even wore autumn leaves in her hair.
While Teejay had a lot of fun at her baby shower, what caught our attention was the adorable cake her friends had bought for her.
Teejay's baby shower cake a multi-layered one decorated with cute little red shoes on the top and autumn leaves.
It's been a couple of days when Karanvir announced Teejay's pregnancy with an adorable picture.
The couple, who has been married for around 10 years now, are expecting their first child.
In fact, Karan took it Instagram to shares his excitement and posted a pic with his wife Teejay, flaunting her baby bump in a red dress. One can easily see the baby glow on her dace which is making her look even more beautiful.
On the other hand, soon-to-be dad Karan looked every bit of delighted as poses with his preggers wife.
The actor confessed that the two are excited as well as nervous over the new phase of their life; however they are ready to start this new journey together.