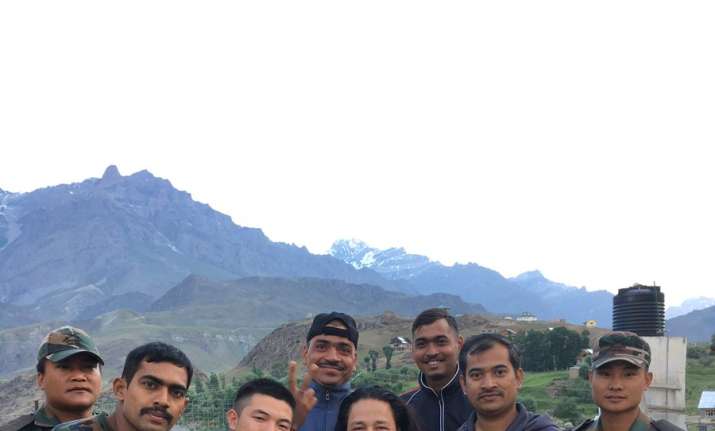 The popular singer Kailash Kher who recently celebrated his 44th birthday says he had a life-changing experience when he spent a few days with the soldiers from Kargil. Kailash on Tuesday -- a day before the Kargil Vijay Diwas -- took to Twitter and shared a photograph of himself with the soldiers. In the photograph, he is seen singing on a mic, while actor Randeep Hooda and the soldiers are seen dancing near him. The two celebrities went to Dras, Kargil last week to celebrate the Vijay Diwas and express solidarity with the soldiers.
"Spent these few days with Kargil warriors, was a life changing experience. Performing for them was real meaningful and worth affair of this life. Actor Randeep Hooda was also fun amongst them. Overall great show. Kargil Vijay Diwas. Our army our pride," Kailash captioned the image.
https://t.co/QW38A8hXBV they sang with me louder #BholeChale #Passionate #Soldiers #BholeKiFauj #OurArmyOurPride pic.twitter.com/MjiNqi9NSa

— Kailash Kher (@Kailashkher) July 23, 2017
The "Teri Deewani" crooner shared the photograph on the occasion of Kargil Vijay Diwas, named after the success of Operation Vijay. On July 26, 1999, India successfully took command of the high outposts which had been lost to Pakistani intruders. 
Today is Birthday of this Nation's real hero #ChandraShekharAzad 23/7/1906 आज़ाद हैं आज़ाद रहेंगे। धन्य हे भारत भूमि। #वीरोंकीधरती pic.twitter.com/2FE3k0u6oL

— Kailash Kher (@Kailashkher) July 23, 2017
The Kargil War was fought for more than 60 days, resulted in the loss of life on both sides, India and Pakistan, and ended on July 26 with India regaining possessions of Kargil heights. The day is celebrated every year in honour of the Kargil War's heroes.
(With IANS Inputs)
For more entertainment updates, follow our Facebook page