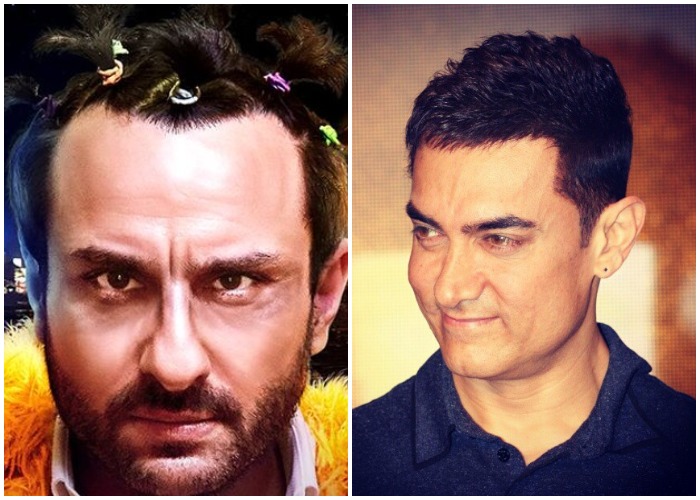 Superstar Aamir Khan was all praises for his Dil Chahta Hai co-star Aamir Khan after watching his upcoming film Kaalakaandi. He said that the actor's performance is outstanding in the film. Aamir, who attended the film's premier on Thursday, took to Twitter to praise the film. He also revealed that he never laughed this much since he read the script of his film Delhi Belly back in 2011. In the note, he wrote:
"'Kaalakaandi' is one of the funniest films I have seen in a long time. Haven't laughed this much since I read the script of 'Delhi Belly'. Absolutely loved all the performances. Saif was outstanding! What a debut Akshat (director)! Proud of you. Don't miss this one guys, it releases tomorrow. Love A," he tweeted.
Aamir had previously collaborated with Akshat Verma in 2011 "Delhi Belly". Verma had written the script for the film and it was co-produced by Aamir Khan Productions. Talking about Saif Ali Khan and Aamir Khan, the duo collaborated for Farhan Akhtar's 2001 hit Dil Chahta Hai. The camaraderie of all three actors of well received by the audience.
— Aamir Khan (@aamir_khan) January 11, 2018
Talking about Dil Chahta Hai sequel, Farhan Akhtar told PTI, "I have not really considered taking the film forward. I feel there was a certain energy, mood and a time in my life when Dil Chahta Hai happened and that's why I wrote it."
"Kaalakaandi", which is co-produced by Rohit Khattar and Ashi Dua, also stars Kunal Roy Kapur, Sobhita Dhulipala and Deepak Dobriyal. The film is slated to release on Friday.
(With IANS Inputs)