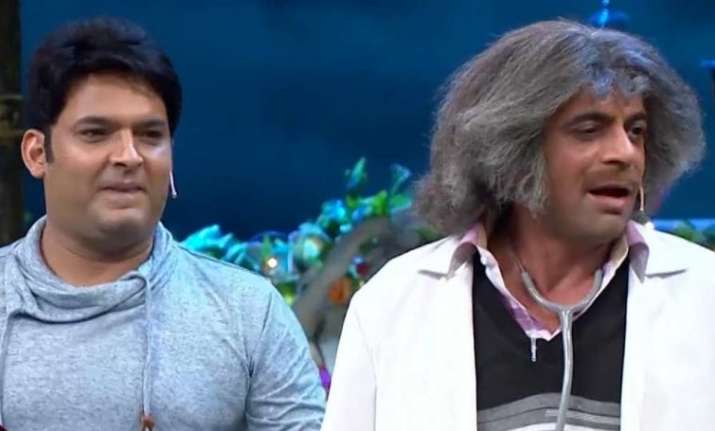 Comedy King Kapil Sharma has made big headlines for allegedly assaulting and mistreating his co-actor, Sunil Grover, on a flight.  Following the incident, Sunil aka Dr Mashoor Gulati has apparently decided to call it quits with the "The Kapil Sharma Show".
Although Kapil apologized to "Rinku Bhabhi", things weren't the same with Sunil and, latest buzz suggest that the "Coffee with D" actor has once for all decided to exit from Kapil's show.
Now, the members of the social media can't seem to keep calm at all.
A war has been broken between the two comedians and Twitteratis have chosen Sunil over Kapil and, now want "The Sunil Grover Show" instead.
Coming in full support of Dr Gulati, many said that stardom has blinded Kapil. The people want the ace comedian to do something really genuine in patching up with Sunil rather than just saying sorry.
Well, it looks like that the "Kis Kis ko Pyaar Karoon" actor didn't win much support from Twittratis. They favoured Sunil and supported him to the fullest
Have a look at the tweets
@WhoSunilGrover u r d best comedian in india nd u r more talented and great person thn @KapilSharmaK9 .Start ur own show.#TheSunilGroverShow

— Lavish sharma (@lavish_sharma) March 21, 2017
Retweet every1 if agree. #SunilGrover best 1 from TKSS.
If he will quit, I'm gonna stop watching TKSS show.
Retweet If u also gonna do. pic.twitter.com/Q9ennf972S

— Yog pratap singh (@yog18pr) March 21, 2017
Kapil Sharma show without sunil grover is like Indian cricket team without virat kohli.

— Bruce Wayne (@WaizArd20) March 21, 2017
@KapilSharmaK9 as we respect you.. we also reapect sunil grover. and you lost your respect kapil. we love sunil grover😥 pic.twitter.com/HVTvwWfwIk

— Jitu rajbhar (@jiturajbhar1) March 21, 2017
#SunilGrover the real hero of #ComedyNightsWithKapil pic.twitter.com/Bn2CfZBAya

— Shakti S Singh Bisht (@krishna_kriti) March 21, 2017
@WhoSunilGrover
Host #TheSunilGroverShow and make @KapilSharmaK9 as the #Gutthi (Kutti) of the show. let's see if kapil has it in him#tkss

— Abhishek (@protimdas) March 20, 2017
#SunilGrover sir, you're far better than kapil! you can do a seperate show! we all will support you! you wre the only reason of his success

— Sanjay singh (@Sanjay1Singhh) March 21, 2017
Sunil Grover pic.twitter.com/mARmtUTgjW

— RVCJ Media (@RVCJ_FB) March 21, 2017
#SunilGrover he is back bone of #TheKapilSharmaShow. Me nd 95% of people watched this only for this guy.... @WhoSunilGrover @KapilSharmaK9

— 💤 (@mai_hu_naa) March 21, 2017
Kapil Sharma make ppl happy but Sunil Grover make ppl laugh.#KapilSharma is nothing without #SunilGrover
So give Respect each other #kapil .

— Narendra Panda (@Narendrapanda7) March 21, 2017