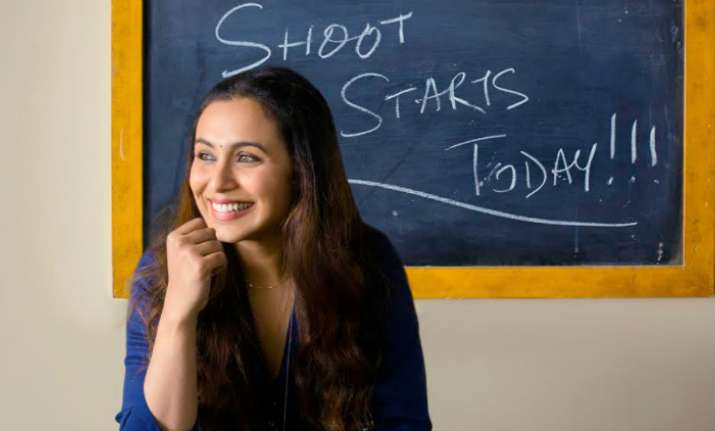 Actress Rani Mukerji's upcoming film Hichki was caught in a row over its writing credit after a Melbourne-based writer Nishant Kaushik claimed that the story idea of the film belonged to him. He expressed his disappointment on social media whereas the director of the film, Siddharth P Malhotra, has rubbished the charge.
In the film, Mukherjee plays the role of Naina Mathur who suffers from Tourette syndrome that forces an individual to make involuntary repetitive movements or sounds.
Nishant tweeted, "Landing in India this morning, I watched the trailer of Hichki which served as a rude reminder of how easy it is to treat writers like trash. I will rant in this short thread after I have collected my composure."
Nishant said that he met director Siddharth Malhotra in March 2015 and the "We Are Family" helmer told him to help in the writing department.
"I was excited, and thankful for being considered to take a stab at the opportunity. I mentioned I had a day job. I was told time is not a constraint. Siddharth gave me a one-liner brief. I began working. Over a month, I developed characters, motives, plotlines, and a story synopsis.
"Despite being in Australia, I opened all channels of communication to keep him abreast with updates. After submitting the material over email, I waited. Dropped emails and texts. No response."
The author said there was no response from Malhotra and after that he assumed the project was not taking off or his work was not fit for purpose.
"...I conceded with whichever of the two was true. More than two and half years later, I watch the Hichki trailer and notice a rather similar storyline, a protagonist with the same speech disorder I had described, and other nuances that I may not own all by myself, but are undoubtedly similar to the ones I portrayed.
"Does this mean Hichki is my story? No. Does it mean I worked on it and was owed the courtesy of a response or acknowledgement of the effort I invested? Hell yes."
Nishant, who has written books like A Romance With Chaos and My Father Is A Hero,is saddened that his work was not acknowledged by the director.
"...The fact that you abruptly cut off from the writer who put in months of hard work to deliver a story to you without a word of feedback, gratitude, or even a "regret to inform" message rankles me.
"My written material, which has been nonchalantly consumed (and possibly forgotten), and all my communication with Siddharth Malhotra is saved on record. Happy to present evidence. But the question is what am I to expect of it?"
Several Twitter users, including screenwriter Apurva Asrani, who had faced a similar situation with Kangana Ranuat starrer "Simran", and noted critic-writer-director Khalid Mohammed, said this kind of incidents does exist in Bollywood.
"Plagiarism or not, the way our industry treats writers is appalling," Apurva Asrani said on Twitter.
While Khalid Mohammed, tweeted, "Welcome to the ways of Bollywood, friend."
The four main writers reportedly credited for "Hichki" are Anckur Chaudhry, Sidharth P Malhotra, Ambar Hadap, and Ganesh Pandit.
"Hichki team, good luck to you. I am sure you will earn millions. I hope all the money you make is good enough to numb you, because if I were you, my conscience would be pricking me sharp. Rant ends," Nishant concluded.
Malhotra in a statement called the allegations as "baseless" and said he had acquired the rights for Brad Cohens acclaimed autobiography "Front of the Class" in 2013.
"I had acquired the rights to make Front of the Class as a Hindi motion picture in 2013. Nishant Kaushik?s claims are baseless. He was contacted through Exceed Entertainment and I havent even met him once.
"We were looking for writers who could come up with a take on the Front of the Class. We had approached several writers including Nishant. He was given a brief for the film and the story and slant he came up with, was not what we were looking for. So, we did not proceed with him and Exceed was informed about my decision immediately," Malhotra said.
According to Malhotra, several prominent writers like Amole Gupte, Abbas Tyrewala have worked on the story of "Hichki".
"We have obtained NOCs from them (Gupte and Tyrewala) and I thank each one of them for being the creative contributors of Hichki.
"We have credited all the writers who have worked in our film. So, it is ridiculous that we will not give credit to anyone in particular who has worked hard and contributed for Hichki," he added.
The film is being produced by Yash Raj Films will be released on February 23, next year. 
(With PTI Inputs)