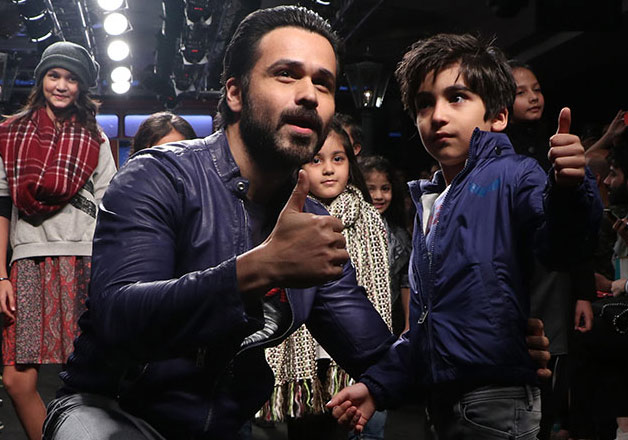 Bollywood actor Emraan Hashmi recent presence at the coveted Lakme Fashion Week Winter-Festive 2016 has been the talk of the talk. All thanks to his son Ayaan.
This father son duo had walked the ramp for the first collection of International clothing brand Diesel. In fact, both Emraan and Ayaan wore similar dress for the junior Hashmi's first ramp walk.
Indeed, Ayaan did look dapper as a show-stopper at LFW and the Emraan is nothing less than proud of his child who is all set to follow daddy's footsteps.
Hashmi said that his six-year-old has already decided to be an actor when he grows up.
"He has already decided to be an actor. I don't impose my ambitions on my son. He can be a doctor, an officer or a scientist or whatever he chooses to be," Emraan told IANS.
He further added saying, "He, for some reason, has kind of understood what I do for a living. He didn't earlier understand the concept of shooting. He first thought it was about shooting with a gun.
"Then he got more confused when I took him for a film shooting, and I had a gun in my hand for a particular action scene. So now he is trying to connect to it, but yes, he wants to become an actor... I think he is already working towards it."
Born in February 2010, Ayaan, the first child of Emraan and wife Parveen Shahani, was diagnosed with first stage cancer at the age of four in early 2014.
Now a cancer survivor, Ayaan is a confident young boy who blew kisses on the ramp -- just like his father did.
Emraan, who had penned his struggle around his son's cancer treatment in a book titled "The Kiss of Life: How A Superhero and My Son Defeated Cancer", also said that while it was his "first walk" for LFW, it was "special" -- more so because it was with his son.