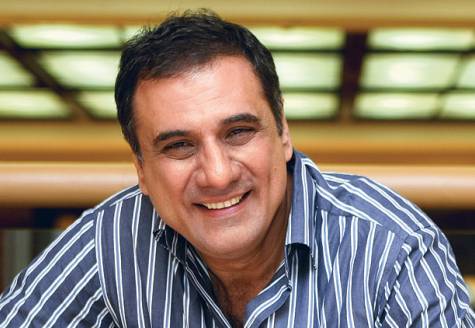 Boman Irani has not only impressed fans with his intense performances in films like Munnabhai MBBS, Jolly LLB and 3 Idiots, but has also contributed equally as a comedy actor in Bollywood. 
All his characters in films like -- No Entry, Housefull series and Happy New Year -- have become popular, thanks to his impeccable comic timing. The actor has said that comedy should not be dismissed as something that is "senseless". 
"It is not a plan to have a balance of comic and serious films, it is a mindset. We, actors, are entertainers. It is a part of our social fabric to make sure that people are also entertained. People need an escape of sorts through movies. It is not to be treated like something totally senseless," Boman said. The 57-year-old actor said that actors should be able to entertain the audience through their work. 
"It is important to entertain people who do not have the opportunity to travel. They require entertainment as a staple diet in their everyday life. Entertainment is a big medicinal dose for the public. I feel that we must acknowledge that," he said. 
In his 16-year-long film career, Boman has several memorable roles to his credit including that of Dr J C Asthana in Munnabhai MBBS, Professor Viru Sahastrabuddhe (Virus) and Advocate Rajpal among others. Now, he is portraying Children's rights activist and Nobel Laureate, Kailash Satyarthi, in an upcoming film, titled Jhalki. 
The film is the story of a nine-year-old girl in search of her seven-year-old brother against the backdrop of bonded child labour in the carpet weaving factories of India. This is the first time that a feature film is being made on Satyarthi and his works. Boman said that the activist is upbeat about the movie and has given his full support. 
"The film is being made with his complete understanding and guidance. The director went to meet him and understood his work. Mr Satyarthi is aware of the script," he said. 
Boman, who has shot his portions of the film in Mirzapur, UP, said that he has a small role in the project but he agreed to do it as he is deeply inspired by Satyarthi's work and life. 
"I am not the central character but I wanted to do the film as Satyarthi is one of our national icons. It is 
important that he becomes a household name for doing what he is doing. I hope there is more awareness about the problem of child labour as well as Satyarthi through the film," he said. 
Boman wants to contribute to the society and finds it to be a satisfying experience as he works closely with the Don Bosco Shelter in Mumbai, which is an institution that looks after street children. 
(With PTI Inputs)