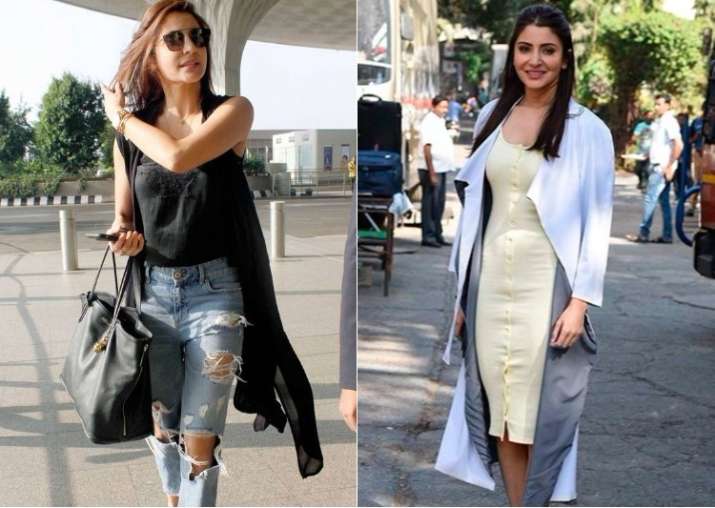 Anushka Sharma is one of the most talented actresses in Bollywood. Ever since she made her debut in Rab Ne Bana Di Jodi, Anushka Sharma has been the designated girl next door in Bollywood. 
Whether or not Anushka Sharma's fashion is always on point, she definitely has come a long way. Other than when Anushka is busy promoting her films or walking the red carpet, she can usually be seen in a super casual avatar, more often than not jeans and a top.
Also read- Anushka Sharma dons ripped jeans and grey t-shirt with 'Swag'. See pics
From actor to producer, Anushka Sharma juggles many hats. And just when you thought she couldn't possibly manage anymore, the star surprised her fans all over the world when she announced the launch of her very own clothing line.
"This is something I've been wanting to do for a very long time," Sharma revealed about the brand, which has aptly been named Nush, one of her nicknames. "Clothes are actually something that we live in, they are a huge part of our lives. Our style is the way we express ourselves, the way we express our mood. I wanted to create a brand that can add that value to someone's life, be a part of that person's life."
A feel-good combination of easy-breezy cuts, vibrant colours, happy prints and low maintenance casuals, Nush channels Sharma's trademark, fuss-free style. If you're a fan, you'll definitely recognise the actor's vibe in the distressed denim, cosy bombers and boho blouses, all made keeping the wearer's comfort in mind. 
"As a young girl, shopping for clothes that suited my sense of fashion under one roof was a struggle. If we got the right style, the price didn't fit, when we found the right price, it was lacking in style. My father used to get so bored, he'd be sitting outside talking to the guy making bhel puri! When my parents came and joined me today, all those memories came back to me. I thought to myself, I couldn't have imagined at that time that one day I'd have my own clothing line!", Sharma revealed.