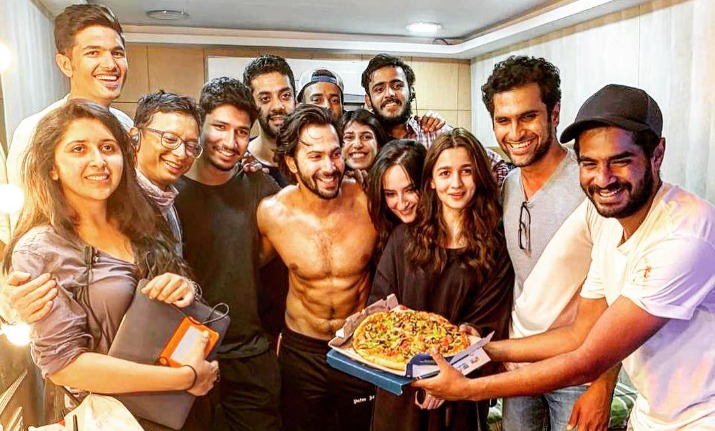 Alia Bhatt is one busy bee. She is juggling between Kalank and Brahmastra at the same time. Despite getting injured on the film sets, the brightest smile on her face remains intact. Also, she didn't postpone or cancelled any of her shoots, despite her one leg being in a cast. Recently, she was spotted shooting an intense stunt scene on roof with Brahmastra co-star Ranbir Kapoor. On Friday, Alia Bhatt and Varun Dhawan wrapped up one crazy schedule of Kalank. They celebrated the occasion with a pizza party.
Sharing the pictures from the celebration on his Instagram, Varun Dhawan wrote, 'End of a crazy sched team #kalank. This has to be the most hard working team I have ever worked with. Day night these boys and girls have given their life so I can shine bright on screen. @abhivarman just smiling cause he thinks I'm craY and @aliaabhatt with zero sleep and an Injury giving her 100 percent #teamkalank. We coming to u in 2019 get ready. April 19 th. Also I got my #pizza'
In the pictures, Alia Bhatt is seen standing with a bandage on her left leg. The actress even dropped a comment on his picture, which is so relatable. She wrote, 'I look horrible'. No Alia dear, you're looking totally adorable in that black t-shirt dress.
Recently, Ranbir Kapoor and Alia Bhatt were spotted together coming out of a clinic in Bandra. Alia Bhatt was limping since her left foot was injured. Boyfriend Ranbir comforted her and escorted her to the car. Despite the injury, Alia acknowledged the fans who swarmed to click a selfie with her.