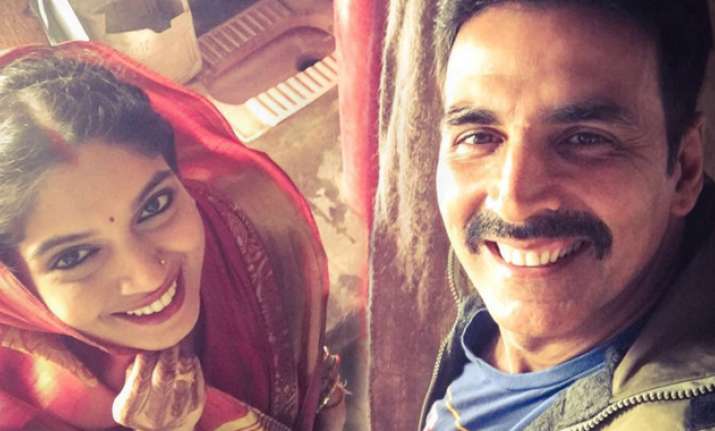 Superstar Akshay Kumar starrer 'Toilet: Ek Prem Katha' may land itself in legal trouble for violating age old traditions of rural Mathura, said media reports. A lawyer Gokalesh Katara has, reportedly, threatened to take the movie to the court if it shows a marriage between residents of Nandgaon and Barsana.
Gokalesh told a daily that since the time of Lord Krishna marriages haven't happened between these two areas of Mathura. Revealing the reason, he said Lord Krishna was from Nandgaon and his beloved Radha was from Barsana, and the two never got married. Their pious love is celebrated in Holi every year.
The movie is currently being shot in Nandgaon amidst high security in order to not to reveal the plot. However, the line 'Nandgaon ka chhora and Barsana ki chhori (boy from Nandgaon and girl from Barsana)' was used that apparently alarmed the residents.
Golakesh said that locals also saw baraat scenes from school premises. He added that he learnt from media reports that the story involves a marriage between Nanagaon and Barsana regions. Telling about how seriously the locals follow this no-marriage policy, Golakesh said that there are 200 Muslims in Nandgaon and 1000 Muslims in Barsana, but they too have respected the tradition.
The lawyer said that he would ask the makers to give him the script of the movie after which he will take a decision about the legal matters. Golakesh also found the title of the movie objectionable.
Let us see if the movie's makers listen to demands of Golakesh and give him the script.
Reportedly, priests from both the villages had also raised concerns about the movie. A mahapanchayat was called that was attended by residents from nearby villages. The people discussed future course of action if the movie violated the traditions.
Actress Bhumi Pednekar has been cast in 'Toilet: Ek Prem Katha' opposite Akshay Kumar.