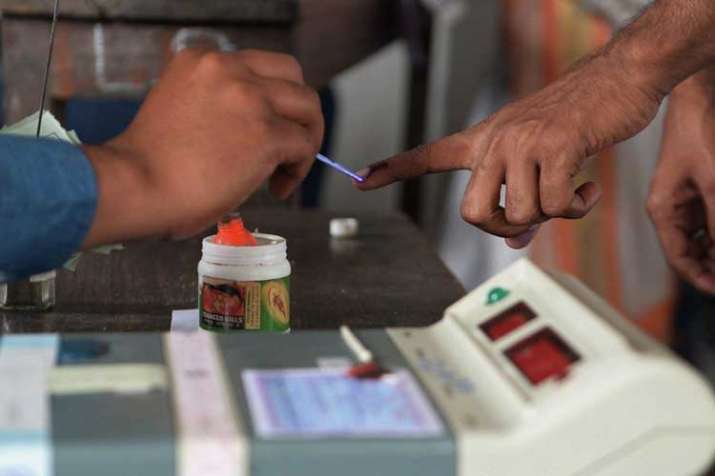 After high-voltage campaigns that saw war of words among contending parties, Telangana and Rajasthan are all set for assembly polls on Friday.
On Wednesday, high-octane campaigns that witnessed many election rallies in which the Bharatiya Janata Party (BJP) and the Congress sparred over corruption, Prime Minister Narendra Modi's caste and Congress president Rahul Gandhi's 'dynasty' ended in both the states.
In Rajasthan, as many as 2,274 candidates including 189 women are in the fray for 199 out of the 200 assembly constituencies. The election in Alwar district's Ramgarh constituency has been postponed due to the death of Bahujan Samaj Party candidate Laxman Singh.
Polling will take place from 8 am to 5 pm in 199 constituencies in the state. Votes will be cast at 51,687 polling booths, 259 of them managed exclusively by women officials and security personnel. It is a seen as a straight fight between the Bharatiya Janata Party and the Congress for about 130 seats.
If the Congress wins, it is expected to pick between former chief minister Ashok Gehlot and state party president Sachin Pilot for the top post in the state.
Raje is contesting from Jhalrapatan constituency, considered her bastion. This time she faces BJP veteran Jaswant Singh's son Manvendra Singh who has defected to the Congress, complaining that his old party had hurt the pride of the Rajputs by ignoring his father in the last Lok Sabha election.
In Tonk, Sachin Pilot and Rajasthan Transport Minister and BJP candidate Yoonus Khan are face to face. Khan is the only Muslim candidate fielded by his party. Ashok Gehlot is fighting for the Sardarpura seat.
[ALSO READ] 'You don't even know names of Congress leaders': PM Modi mocks Rahul Gandhi over 'Kumbhkaran Yojana' gaffe
Elaborate security arrangements have been made for free and fair polls. There are 4.77 crore registered voters in Rajasthan. 2.27 crore are women and 20,20,156 are registered as first-time voters. In the BJP ruled state, electioneering brought up issues like farmers' problems, corruption and jobs for the youth.
In the run-up to the polling, the Election Commission received 3,784 complaints related to violation of code of conduct. Of them, 3,098 were found true.
Both parties promised an unemployment allowance to the educated youth. The Congress promised a loan waiver for farmers. The campaign also saw Narendra Modi and Rahul Gandhi taking digs at each other over Bharat Mata ki Jai' slogans.
[ALSO READ] Pretty confident Cong-led alliance will win in T'gana: Rahul Gandhi
In Telangana, the fight is expected to be triangular, especially in some seats, for the 119-member Telangana assembly where the Congress has tied up with unlikely rival TDP, CPI and Telangana Jana Samithi (TJS), a new party floated by M. Kodandaram, who was once KCR's friend in the Telangana movement to form 'Praja Kutami" (People's Front).
In Telangana, the Congress surprised the rival TRS by coming up with an alliance in a bid to oust the ruling party and has made the election a tough battle between the two sides. The BJP is seeking to emerge as a key player in the state. 
Asaduddin Owaisi-led AIMIM is in the fray in eight seats and is extending support to TRS in the rest of the state. Telangana Chief Minister K. Chandrasekhar Rao had gone into the poll mode about five months ahead of schedule in the hope of taking the opposition parties by surprise. 
But the Congress sprang a surprise by forging an alliance that included its erstwhile adversary TDP. The opposition seems to have been able to put its act together despite "early mover" advantage of TRS which had declared its candidates early. 
In Telangana, leaders of the ruling Telangana Rashtra Samithi and Congress held hectic campaigning on Wednesday. 
UPA chairperson Sonia Gandhi, who has not campaigned in several past elections, made an exception and addressed a rally in Telangana to boost prospects of Congress-led People's Front. She also made an appeal to voters through a video message. 
The new state of Telangana was created when Congress-led UPA government was in power. 
Over 2.80 crore electorate are eligible to exercise their franchise in the state, which has a total of 32,815 polling stations across. Additional DG (Law and order) Jitender Thursday said that about one lakh police personnel including 25,000 central paramilitary forces and 20,000 from other states are engaged in poll duties.
More than 1.50 lakh polling officials including reserve staff are pressed into service in the Telangana state. The BJP, which had contested the last polls in alliance with the TDP, is seeking to emerge as a major player in Telangana.
In the 2014 Assembly elections which were held simultaneously with the Lok Sabha polls, TRS polled 33% votes bagging 63 seats while Congress secured 21 seats with 24% votes. TDP and its then ally BJP secured 15 and 5 seats respectively with 21% votes (TDP 14%+BJP 7%).
The YSR Congress had polled 3 per cent votes and got three seats. Others and independents had 11 per cent vote share.
The results to be declared on December 11 along with those of Chhattisgarh, Madhya Pradesh and Mizoram. 
(With inputs from agencies)