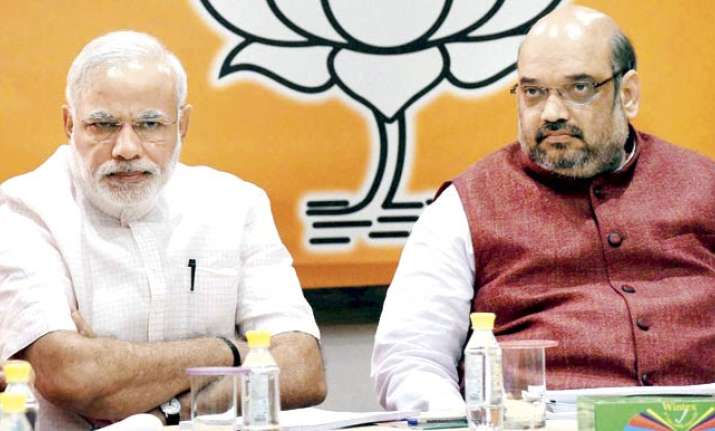 With eyes on 2019 Lok Sabha polls, Prime Minister Narendra Modi and BJP chief Amit Shah will hold discussions on Wednesday with the party's Chief Ministers and deputy Chief Ministers on various issues including the possibility of holding simultaneous Lok Sabha and assembly elections.
The discussion would also include the stages of implementation of various central and state development and welfare schemes, measures to expedite them if necessary and to ensure the benefit of these schemes reach the last man in the line.
The Chief Ministers Council meeting, which has been a yearly affair since 2014, would start at 4 pm on Wednesday and would see participation from BJP Chief Ministers and deputy Chief Ministers apart from a number of senior party functionaries.
The BJP is currently ruling in 14 states besides being a coalition partner in Bihar and Jammu & Kashmir where it has its deputy Chief Ministers.
According to party sources, the BJP leadership had sent a five-point note to come prepared for the meeting.
The states have been asked to present the status of implementation of central schemes targeted at the poor, and socially and economically weaker sections like Jan-Dhan, Mudra, Ujjwala, housing and others schemes.
On the organisational front party, General Secretary Bhupendra Yadav has asked the CMs and deputy CMs to present the details of booth level preparations along with the creation of "Shakti Kendras" and appointment of "Panna Pramukhs".
A three-page note on "One Nation-One Election" has also been sent asking the Chief Ministers to form committees under the leadership of a senior leader either from government or organisation so that the issue can gain momentum in public discourse.
They have also been asked to involve NGOs and other social youth organisations.
The sources said a session for devising strategies to win 120 Lok Sabha seats, which the BJP has never won, will also be held.
(With inputs from agencies)