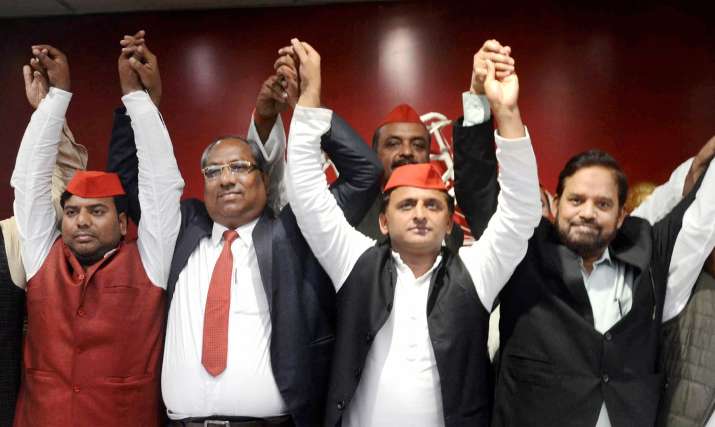 The Samajwadi Party (SP) has decided to support Nishad Party candidate, Praveen Kumar Nishad, for the bye-election to the Gorakhpur Lok Sabha seat. Praveen Kumar Nishad would contest on SP poll symbol - the bicycle, the party said. SP would soon declare its candidate for the Phulpur Lok Sabha seat, it added.
 
Both the Gorakhpur and Phulpur seats will go to polls on March 11. Bastions of the ruling BJP, both seats were vacated after UP chief minister Yogi Adityanath and his deputy Keshav Prasad Maurya resigned to take posts in the state legislative assembly.
"Praveen Nishad, son of Sanjay Nishad, the president of Nishad Party will be our candidate from the Gorakhpur parliamentary constituency. He will be contesting the poll on SP's election symbol - cycle," Samajwadi Party chief Akhilesh Yadav said. 
Asked about the SP candidate from Phulpur, Yadav said a name would be declared soon. This time lotus will wither in Phulpur, he claimed.
 
Prior to Yadav making the announcement, Sanjay Nishad (president of Nishad Party) and Dr Ayyub (president of Peace Party) had announced their decision to contest the bypoll along with the SP. 
The Congress has already declared its candidates.
 
Asked about the future of the Congress-SP alliance when both parties were contesting the polls separately, Yadav said "Our main aim is to defeat communal forces." 
We will appeal to the people of Gorakhpur to support those who fighting for the truth, he said. 
"Last year, hundreds of innocent children lost their lives due to shortage of oxygen, but the government did not take any step. Now even an incident of fire has been reported from the office of the principal of the (BRD) college, and all important evidences have been burnt," he alleged. 
Yadav claimed that the people were feeling "harassed owing to the lies of the BJP" and exuded confidence that his party would come out trumps in the bypolls. 
"We will take their election manifestoes of the Lok Sabha and Assembly polls to the people. We will hold discussions to bring out the truth. They had earlier confused the people with 'chai pe charcha', and now they are planning to confuse with 'pakoda'," Yadav said taking a dig. 
Continuing his attack, Yadav alleged that farmers were dying under the burden of loans. 
Apparently referring to the Nirav Modi swindle, Yadav alleged that under the BJP rule, "people are showing plans on paper to nationalised banks, and fleeing from the country after pocketing crores". 
"When I distributed laptops, BJP people said that all of them were given to Yadavs and Muslims. The expressway, Lucknow metro was built by us, but BJP termed us as those belonging to backward class. While they won the polls claiming to be forward...I don't know how to speak lies," he alleged.