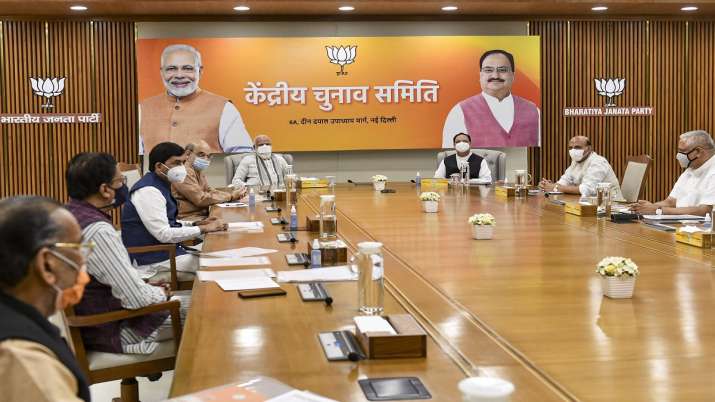 The BJP on Sunday released a list of 46 candidates for the second phase of Bihar Elections. Renu Devi to contest from Bettiah, Mithilesh Tiwari from Baikunthpur and Asha Sinha from Danapur Assembly Constituency. The BJP Central Election Committee on Saturday finalised the candidates list for the second phase, polling for which will take place on November 3. 
The party list names: Narayan Prasad from Nautan, Umakant Singh from Chanpatiya, Renu Devi from Betiah, Krishnanand Paswan from Harisidhi, Sunil Mani Tripathy from Govindganj, Sachinendra Prasad Singh from Kalyanpur, Shyam Prasad Yadav from Pipra, Rana Randhir Singh from Madhuban, Mithlesh Kumar from Sitamarhi, Rampreet Paswan from Rajnagar, Nitish Mishra from Jhanjharpur, Arun Kumar Singh from Bururaj, Ashok Kumar Singh from Paru, Mithilesh Tiwari from Baikunthpur, Rampravesh Rai from Barauli, Subhash Singh from Gopalgunj and Omprakash Yadav from Siwan.
The list also includes Ramayan Manjhi from Darauli, Karanjeet Singh from Daraundha, Deveshkant Singh from Goriyakothi, Janka Singh from Taraiya, Dr CN Gupta from Chapra, Gyanchandra Manjhi from Garkha, Krishna Kumar Mantu from Amnaur, Vinay Kumar Singh from Sonpur, Avdesh Singh from Hajipur, Sanjay Kumar Singh Lalganj, Satish Kumar Yadav from Raghopur, Sheelkumar Ray form Ujiyarpur, Rajesh Singh from Mohiuddin Nagar, Virendra Paswan from Rosra, Surendra Mehta Bachwara, Kundan Singh from Begusarai, Ramshankar Paswan from Bakhri.
BJP candidates for 1st phase:
BJP had earlier released the first list with 27 candidates for the polls on October 6. The first list had names including international shooter Shreyasi Singh from Jamui constituency and former MP Hari Manjhi from Bodhgaya. Singh, daughter of former union minister Digvijay Singh, had joined the saffron party on Sunday.
The list of candidates include three ministers in the Nitish Kumar's cabinet-Prem Kumar, Ram Narayan Mandal and Vijay Kumar Sinha. The BJP has named Munni Devi from Shahpur assembly seat in the Buxar district. Former state minister and the RJD''s old timer Raghvendra Pratap Singh finds place in the BJP''s list from his traditional Barhara constituency in the Bhojpur district.
BJP-JDU alliance 
The BJP will fight on 121 seats out of the 243 Bihar constituencies while its ally JDU will fight on 122 seats. The JDU will accommodate the Hindustani Awam Morcha (HAM) and the BJP will accommodate the Vikassheel Insaan Party (VIP).
Recently, the LJP decided to go solo and field candidates against the JDU, with rising acrimony between the two Bihar-based parties.
The 243-member Bihar Assembly will go to the polls in three phases -- on October 28, November 3 and 7 -- and the results will be announced on November 10.