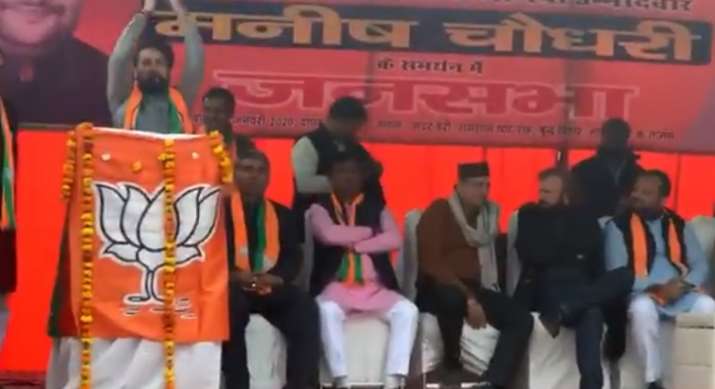 Union Minister of State for Finance & Corporate Affairs Anurag Thakur today stoked controversy during an election rally in Delhi by urging people to "gun down traitors." Anurag Thakur led with chants "Desh ke gaddaron ko" to which the crowd loudly replied "goli maaro sa**n ko." Thakur was addressing the poll rally in Delhi's Rithala where Manish Chaudhary has been fielded as a BJP candidate. Delhi is set to go to polls on February 8.
Addressing the meeting in support of the BJP candidate, Thakur raised the pitch of nationalism as he linked opposition parties with anti-CAA protests in Shaheen Bagh and with alleged anti-India slogans, and then asked the crowd to raise the controversial slogan.
Hitting out at the BJP, Kirti Azad, who is the head of the Delhi Congress campaign committee, its leaders are the "real traitors" as they are working to "destroy" peace and amity.
Earlier on Sunday, addressing an election rally, Union Home Minister Amit Shah said voting for the BJP in Delhi polls will prevent "thousands of incidents like Shaheen Bagh." Campaigning for the BJP candidate in Babarpur constituency, he said, "Your vote to BJP candidate will make Delhi and the country safe and prevent thousands of incidents like Shaheen Bagh."
A large number of women have been holding a sit-in against Citizenship Amendment Act (CAA) at Shaheenbagh in south east Delhi since mid December.
The protest, supported by people from different fields including politicians, Bollywood actors and academicians, has emerged as a symbol of anti-CAA agitation in the country.