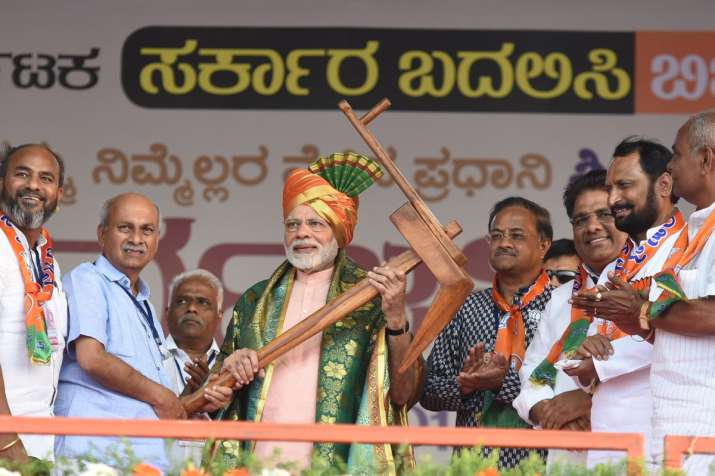 Prime Minister Narendra Modi today launched his campaign trail for Karnataka Assembly Elections with a blistering attack on top Congress leadership, including party chief Rahul Gandhi, ex-PM Manmohan Singh and incumbent chief minister Siddaramaiah. During the course of his three rallies in Karnataka's  Chamarajanagara, Udupi and Belagavi, the prime minister tore through Rahul Gandhi, inciting a sharp response from Congress. 
Here's what he said and how Congress hit back
'Naamdaar' and 'Kaamdaar'
PM Modi: Terming the Congress President as 'Naamdaar', PM Modi said that he would not know about the 'Kaamdaars' as the Congress had nothing but contempt for the poor and the labourers of India whereas the BJP believed in democracy and democratic ideals.
Congress: "The people of the country are not thinking about who is 'kaamdaar' or 'naamdaar'. Today, the only word that exists in the people's heart is 'imaandaar' (honest)," Congress spokesperson Sushmita Dev told media. 
Read more | 'Rahul Gandhi is namdaar, Siddaramaiah flustered': PM Modi attacks Congress in his first Karnataka election speech | Top 20 quotes
15 minutes speech challenge: 
PM Modi: Prime Minister Modi mocked Rahul Gandhi's statement that 'if he speaks for 15 minutes in Parliament Modi will not be able to sit'. The PM said challenged him saying, "For 15 minutes, without taking a paper in your hand, can you please talk about the achievements of your government in Karnataka. You can speak in any language as you please- English, Hindi (or Italian)."
Congress: On the prime minister's remark that Gandhi should speak without a script, Dev said, "Do you have the integrity to speak, let alone 15 minutes, can you speak for even 15 seconds without lies and misrepresentation?" 
Watch: PM Modi responds to Rahul Gandhi's '15-minute speech' challenge
'2+1' formula
PM Modi: Attacking the Karnataka Chief Minister, Modi remarked, "I was reading the papers and saw a 2+1 formula in Karnataka. This is a version of family politics in Karnataka. This is the innovation of the sleeping CM of Karnataka. He fears defeat so changing seats, fighting two seats and in his old seat he has sent his son." The PM alleged that that even ministers in Congress were following a 1+1 formula as their relatives too were fighting the polls.
Congress: Responding to PM Modi's attack Siddaramaiah pointed out that the PM had contested from two seats during 2014 Lok Sabha elections. Attacking Modi over BJP fielding brothers of tainted mining baron G Janrdhan Reddy in the assembly elections, the Chief Minister said, "2 Reddys + 1 Yeddy was Modi's formula to win election." 
"Today PM avoided talking about his complicity in closing CBI cases against the Reddy bros. Instead he spoke about some 2+1 formula. Here is the explanation to his formula to win election. 2 Reddys + 1 Yeddy. #2Reddy1Yeddy," he said in another tweet.
Read  more | '2 Reddys + 1 Yeddy', Siddaramaiah hits back at PM Modi for his '2+1 formula' jibe
Ease of doing 'murder'
PM Modi: The prime minister claimed over two dozen BJP workers were killed under the Congress government in Karnataka in political violence. "What was their crime? It was that they were opposed to your views, they raised their voice for the people of Karnataka. "We want to encourage the ease of doing business, they (the Congress) have initiated the culture of ease of doing murder," he told another election rally in Udupi. 
Congress: No response.
Village electrification
PM Modi: Speaking at length about proving electricity to 18,000 villages, PM Modi targeted the Congress and questioned why those villages lacked power supply since independence. "Dr Manmohan Singh said we will electrify villages by 2009, Sonia Gandhi went a step ahead and said we will provide electricity to every house by 2009. But what happened? In 4 years, the Congress party could only electrify 2 villages. This is their record", said PM Modi.
Congress: No response.
Bank 'loot'
PM Modi: Lashing out at Congress, PM Modi said that the NDA Government at Centre opened bank accounts for the poor. He said, "Over 31 crores accounts have been opened under Jan Dhan Yojana. If the Congress had ensured their bank accounts, the poor would have contributed so much to the economy. But sadly, Congress never thought about their welfare."
Further attacking the Congress, the PM stated, "Do you know remember how much currency was found in the home of powerful Congress leaders? It is high time the money that belongs to the 'Kaamdaars' is returned to them from the 'Naamdaars' who usurped it." 
Congress: No response.
Disrespect towards HD Deve Gowda and BR Ambedkar 
PM Modi: The PM claimed that Congress leaders' and Congress President's disrespect towards Deve Gowda was not acceptable and if such was their mindset, how they could think good for people of Karnataka.
At the public meeting, PM Modi slammed Congress party on mistreating Baba Saheb Ambedkar. He said that the Congress party never accepted Baba Saheb's views and today they were spreading lies before every election.
Congress: No response.
Read more | PM Modi attacks Rahul Gandhi over his 'sanskar' and 'ahankar' in Udupi rally, says he disrespected ex-PM HD Deve Gowda
Farmers' distress
PM Modi: Prime Minister Modi assailed the Congress government in Karnataka and asked what they had done in Karnataka to address farmer distress and why did they not ensure proper irrigation facilities to the farmers? He accused Congress for being jealous because it was Modi government that got the majority, a person for humble background became the Prime Minister.
"Farmer welfare is a priority for us. We brought the soil health cards, ensured MSP at 1.5 times of input cost and implemented the Fasal Bima Yojana. Empowering the villages, farmers and the poor is our only motive. Every Budget that we have implemented has welfare of the poor at its core," said the PM at a rally in Belagavi.
Congress: No response.
Also read | PM Modi in Karnataka's Belagavi: 'Congress never respected Baba Saheb Ambedkar' | Highlights
Piyush Goyal, Nirav Modi, Jay Shah and Rafale deal
While Congress leadership did not respond to every salvo fired by PM Modi, it stayed on its course of accusing Union minister Piyush Goyal of corruption and raising concerns over Rafale deal. 
The Congress attacked PM Modi, accusing him of lying and not having answers on issues of alleged corruption by his ministers, diamond merchant Nirav Modi, and Rafale. 
"Today, it has been proved beyond doubt that the prime minister has no answer on Nirav Modi, or on Jay Shah. He has no answers on Rafale or on Piyush Goyal's corruption which is there beyond doubt in the public domain," Sushmita Dev told reporters. 
The Mahila Congress chief said she wanted to tell him that their fight was not against individual Narendra Modi but Gandhi's challenge to speak for 15 minutes must address the issues related to Nirav Modi and Rafale. 
"It must address Jay Shah and Piyush Goyal. But today his statement in Karnataka has proved beyond doubt that he has absolutely no answer whatsoever to these issues," she claimed.
BJP: No response.
Watch full coverage of the news on Aaj ki Baat: