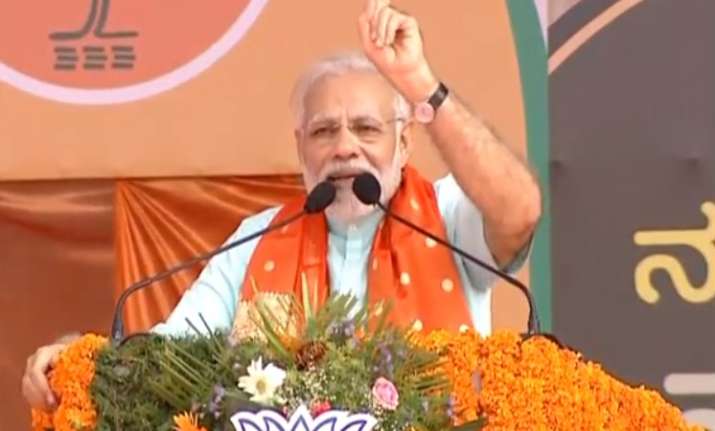 Addressing the second rally of the day in Udupi, Prime Minister Narendra Modi continued his relentless attack on Congress president Rahul Gandhi and also used the stage to corner the Siddaramiah government over a range issues, including the state's rising crime graph and development.
In an apparent attempt to establish a connect with the people of Karnataka, PM Modi slammed Rahul Gandhi for showing disrespect to former PM and Janata Dal (Secular) leader HD Deve Gowda.
"HD Devegowda may be an opposition leader. We may have difference of opinions but I can never ever think of being discourteous to him. Whenever he (Devegowda) comes to meet me in Delhi, I open the car's gate for him as he is elder to him and a senior leader of the country," Modi said.
PM Modi hits campaign trail in Karnataka: Highlights
"However, you all must have seen how he (Rahul Gandhi) treated him (Devegowda) during a public gathering a few months ago. It was really shameful. Is this your sanskar? Is this the way you treat your elders?" PM Modi went on to add.
Accusing the Siddaramaiah government of rampant corruption and failing to control the ever-rising crime in Karnataka, PM Modi said if voted to power, the BJP will leave no stone unturned to fulfill aspirations of people of the state and ensure all-round development of the region.
"People of Karnataka have decided to punish the Congress in the assembly elections," he said.
PM Modi also claimed that over two dozen BJP workers were killed in Karnataka under the Congress government for raising their voice for people of state
"Violence cannot be accepted in a democracy. It is shameful how BJP Karyakartas were murdered in Karnataka. The Congress must answer on increasing crimes," he said. 
Earlier in the day, PM Modi addressed a rally in Chamarajanagar during which he dared Rahul Gandhi to speak for 15 minutes without referring to a piece of paper.
Addressing his first election rally for the May 12 Assembly polls, Modi took a dig at Rahul Gandhi saying: "He is correct. There is no way ordinary people like me, who do not even dress well, can sit with such high and mighty people like the Congress President." But immediately he changed gear and launched a blistering attack on Rahul Gandhi.
"The Congress President is a 'naamdaar' (only name). So how does he know about the efforts of 'kaamdaars'. We are kaamdaars (known by our work). What is our level that we can sit with people like the Congress President who look down upon us," he asked.
Challenging Rahul Gandhi to speak for 15 minutes on the achievements of the Siddaramaiah government "without reading from any piece of paper", he said: "You can speak in Hindi, English or your mother's mother tongue (Italian)."
Watch: Rahul Gandhi disrespected former PM Deve Gowda, says PM Modi in Udupi