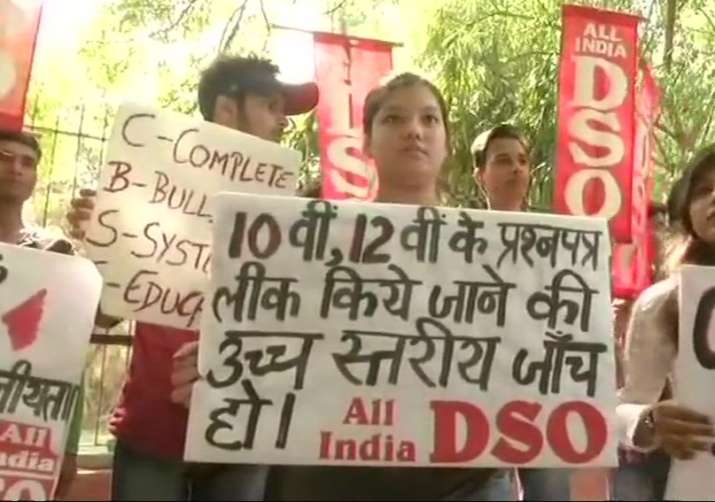 The Central Board of Secondary Education (CBSE) has come under fire from 28 lakh students, who were affected from its decision to reconduct Class X Mathematics and Class XII Economics exams, and their parents for allowing question papers to be leaked. 
The announcement of re-exams has further added to the woes of the students, who were looking forward to starting next session (Class X) or prepare for college admissions (Class XII).
But could CBSE avoid the pain caused to the students? Was CBSE sleeping on the information of exam paper leaks for several days before the date of exams? The information revealed in the board's police complaint indicates that there was a major delay in action on paper leak information. 
According to the two police complaints filed by CBSE on March 27 and 28, the board officials had got an anonymous tip about a paper leak scandal running in Delhi on March 23, which is two days before the Economics exam and five days before the Mathematics exam. 
But instead of acting on the tip quickly, CBSE officials did not pass on the information to the regional office till the next day. After receiving the information, the regional office sent a WhatsApp message to Delhi Police Crime Branch Inspector. 
Neither Delhi Police nor CBSE did anything further in the matter till March 25. 
On March 26, when the students sat for the Economics paper, the CBSE Academic unit at Rouse Avenue received an unaddressed envelope in the evening containing four sheets of handwritten answers of the Economics paper. The envelope also had four mobile numbers, from where the leaked question paper was allegedly secured. 
The same day, panic gripped students of Class XII following claims on social media that the economics paper had been leaked. But CBSE denied the news.
On March 27, CBSE finally copped up to the leak and filed an FIR in the matter of Class XII Economics paper leak. 
The Class X Mathematics question paper was reportedly available since March 27 night, but the CBSE decided to announce re-exam while the students were giving exam on March 28, instead of cancelling it beforehand. The board also filed a separate FIR in the case. 
Why CBSE officials did not investigate the matter of paper leak will be known only after further investigation. For now, the board has passed all the information to Delhi Police, which has already conducted raids at over 50 locations and has questioned 25 people, including the main suspect who runs a coaching centre in Delhi Rajinder Nagar.
Watch video: