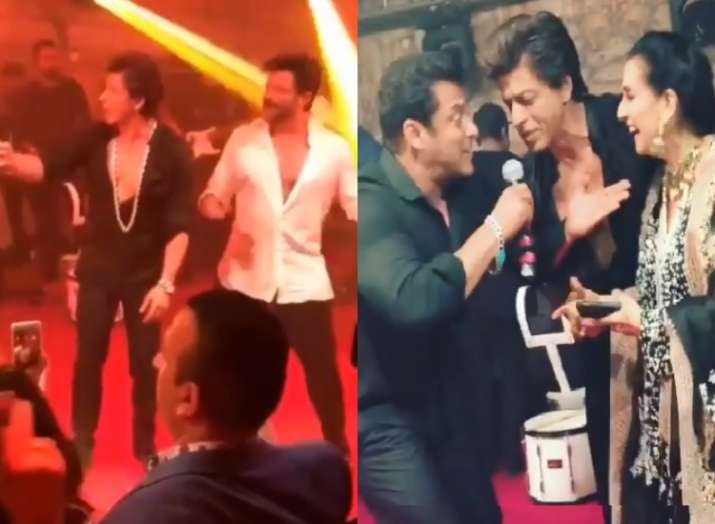 Sonam Kapoor
has now proudly become Sonam Kapoor Ahuja and one cannot deny that the match is definitely a 'Rab Ne Banadi Jodi'. The way Anand Ahuja looks at his wife Sonam Kapoor clearly shouts that the couple is head over heels in love. The couple's fans have hunted down every single picture and video from the celebrations and watching them on loop.
Not just us but even Bollywood couldn't keep calm when all the biggies from the industry joined the grand party to celebrate newlyweds, Sonam Kapoor and Anand Ahuja. From King Khan Shahrukh Khan to our Dabangg
Salman Khan
, no one wanted to get off the stage. 
Watch their uber funny and entertaining videos that will give you a high as well.
1. When Shahrukh Khan and Salman Khan danced their hearts out
One can learn how to enjoy a party from the two biggest Khans of Bollywood. Adding more fire to the already hot ceremony, Shahrukh and Salman shook a leg to the bests of Salman Khan's famous songs 'Chalti Hai Kya 9 se 12' and 'Janam Samjha Karo'. 
2. The two Big Khans, yet again
Well, we can't help but talk about the popular Karan-Arjun Jodi again and again because they refused to get down from the stage. After twirling and hoping and shaking to the Bollywood beats, the duo decided to bring back their Karan-Arjun time by singing a famous track from the movie. (Can't say they sing well but we enjoyed it nevertheless)
3. Ranveer Singh was on Fire, like always
It just so difficult to match up to
Ranveer Singh
when the man is in the house. But our new groom totally managed. Just see how Ranveer picked up Anand Ahuja and spun him around like a little kid. We wonder how is Anand Ahuja standing straight after those spins!
4. Father Anil Kapoor's Jhakkaas moves
The party cannot get over without
Anil Kapoor
recreating his Jhakkaas moves for us all. The man is evidently high on happiness and couldn't stop his feet from tapping for even a single second.
5. Ranveer Singh and Arjun Kapoor's Bromance
This is no surprise that the two are very close friends but this video is proof how deep they are in 'Bromance'. They even entered the grand party recording each other and complimenting each other.
Sonam Kapoor and Anand Ahuja's reception is definitely one helluva night with all the Bollywood stars living up to every second. We hope that these videos never stop coming