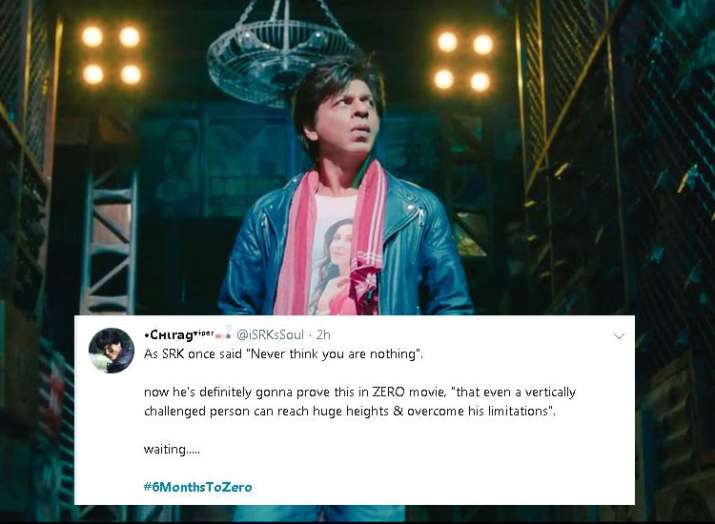 The King of Romance Shah Rukh Khan is back with another phenomenal character Bhaua Singh in his upcoming film Zero. While the fans are waiting wholeheartedly for the film to release, Shah Rukh Khan keeps teasing them with pictures and teasers from the film. Just recently, when the makers of Zero revealed the teaser featuring Salman Khan and SRK, social media was flooded with love for the two Khans. Fans called it the perfect Eidi they could ever get. 
Undoubtedly, Zero is the most awaited movie in Bollywood and with just 6 months remaining for its release, fans are going crazy on Twitter by posting various pictures and clips of their favourite hero from the movie Zero. The hashtag #6MonthsToZero has been running on Twitter and fans are posting everything adorable about the movie.
In case you are wondering what all they are posting, have a look here:
6 month 183 days 4362 hours 263520 min and 15811200 sec to go cant keep a calm for a sec

excitement over loaded 🙈

rt if you agree
#6MonthsToZero pic.twitter.com/wwOCbX6sRe

— Mr.unique (@Shaikhansar7777) June 21, 2018
#6MonthsToZero
I am afraid that for the next SRK film( Post Zero) we will have to wait for as long as we have waited for Zero.

Hum Aamir-HR fans nahi hai sir ji @iamsrk . Dedh dedh saal ka gap zyada hojata hai aur ye waale decade mein to thoda jyada hi ho raha hai.

— SRK's WARRIOR (@SRKsWarrior1__) June 21, 2018
As SRK once said "Never think you are nothing".

now he's definitely gonna prove this in ZERO movie, "that even a vertically challenged person can reach huge heights & overcome his limitations".

waiting.....#6MonthsToZero

— ㅤ ㅤ ㅤ ㅤ ㅤ ㅤ ㅤ ㅤㅤ ㅤ ㅤ ㅤ (@SRKsSoul_) June 21, 2018
6 Reasons Why We Can't Wait For Zero
#1: SHAH RUKH KHAN!!
He's returning to big screen after a year and half like never before. Can it get any bigger?@iamsrk @RedChilliesEnt @Zero21Dec#6MonthsToZero pic.twitter.com/VOmnkMYtaM

— SRK Universe (@SRKUniverse) June 21, 2018
Iddhar ka hu na udhar ka raha safar ka hi tha mein... Safar ka raha #6monthsToZero pic.twitter.com/VeXZyGjWTX

— Neel ᶻᵉʳᵒ ᶜʰʳᶦˢᵗᵐᵃˢ ²⁰¹⁸ (@neeljoshiii) June 21, 2018
*"कसम से जियरा चकनाचूर है इश्क़बाजी से" 😍*

Khant wait #6MonthsToZero #Zero #ZeroTheMovie #iamsrk @iamsrk @aanandlrai @KhanAfzalahmad @iamshanu555 @SRKUniverse @srkiansana26 @PareshSRKian @ @henalsrkdeewani @KKRiders pic.twitter.com/MVqTaRyNBG

— RAHUL PANDEY ⚖️ (@Iamrahul555) June 21, 2018
Kyunki Dil Me Jab Pyaar ho toh koi toofan SRK ko nahi rok sakta #6monthsToZero pic.twitter.com/pdmncd7xGz

— Neel ᶻᵉʳᵒ ᶜʰʳᶦˢᵗᵐᵃˢ ²⁰¹⁸ (@neeljoshiii) June 21, 2018
Mein Akela Hi Chala Tha Jaanib-E-Manzil Magar Log Saathe Chalte Gaye Karvaan Banta Gaya #6monthsToZero pic.twitter.com/sRnUAriln3

— Neel ᶻᵉʳᵒ ᶜʰʳᶦˢᵗᵐᵃˢ ²⁰¹⁸ (@neeljoshiii) June 21, 2018
#6MonthsToZero 🙌 pic.twitter.com/IMnDdXmn6O

— Elisha🇳🇵 (@EliiiShah) June 21, 2018
Zero, directed by Aanand L Rai, also features Anushka Sharma and Katrina Kaif in important roles. It is scheduled to release on December 21, exactly 6 months from today. Apart from Salman, many other actors are expected to make a guest appearance in the Shah Rukh Khan starrer including late actress Sridevi, R Madhavan, Alia Bhatt, Kajol, Juhi Chawla and Deepika Padukone.