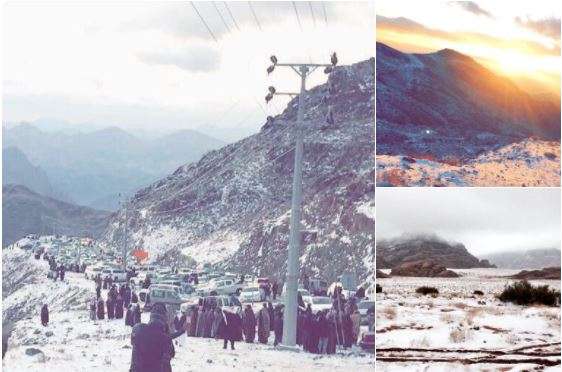 Post snowfall in the Sahara Desert a few days ago, nature has again shocked us with a rare snowstorm in north-west Saudi Arabia's Tabuk region that covered the entire area with white snow. The snow remained intact for a good portion of the day.
This time people in Saudi Arabia witnessed an unusual white winter with snowfall in the desert region and people couldn't contain their excitement over the occurrence. Pictures thronging the social media are truly breath-taking and mesmerizing.
Blanketed in a white sheet of snow, the rare sight left many locals and people from nearby towns enchanted and they wasted no time in enjoying it before it melted away. According to reports by the Arab News, residents and visitors from outside the region came to see the rare snowfall. Roads, especially those leading to Mount Allouz, were thronged with cars.
A white sheet blanketed Saudi Arabia's Tabuk region. Home to the 2,580-metre Al-Lawz mountain, the area occasionally sees fleeting snow carpeting the sand. pic.twitter.com/OQuZI3AdVD

— euronews (@euronews) January 26, 2018
#جبل_اللوز ☃️ ثلوج جبل اللوز اليوم الجمعه٩-٥-١٤٣٩هـ من تصوير
عبدالله الهواوي
pic.twitter.com/2VPfz1cpof

— اخبارالأمطار والربيع (@ss120ss) January 26, 2018
طبع الشمال عشقي وميته فيه
وكلي فخر لا قالووو شماااليه

إيه شماليه أخذ الخير وعطيه
وبادل المعطي جزيل .. العطيه#جبل_اللوز pic.twitter.com/p119KYtG5p

— ‏‏ ‏ ‏🦋‏‏﮼عليا ‏ (@t_____qq) January 26, 2018
#تصويري #رايكم #جبل_اللوز pic.twitter.com/VLwxl5pnhS

— جميل العطوي💫 (@jameel_1000) January 26, 2018
#جبل_اللوز من تصويري ثلوج منطقة علقان 2015 شتاء جميل وثلج منظر خيال ☺️😍😍😍😍 pic.twitter.com/sVcwsDBkcZ

— عيد بن سعيد العطوي (@tabuk0534) January 26, 2018
#عدسة_واس ؛ترصد تساقط الثلوج على #جبل_اللوز.#واس

https://t.co/SezGn9TsJl pic.twitter.com/SzxjXu0FKW

— واس (@spagov) January 26, 2018