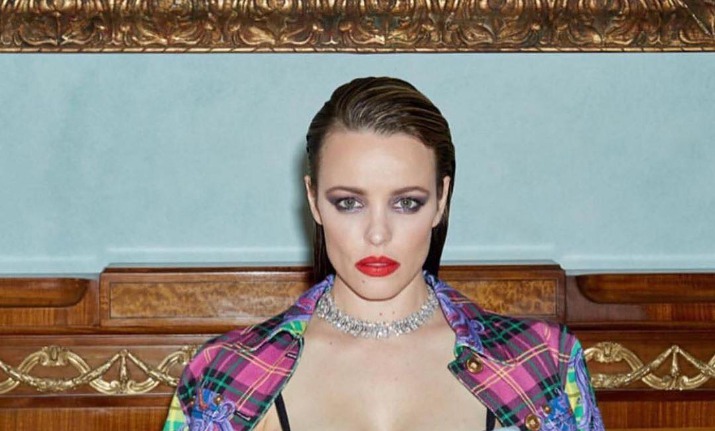 Rachel McAdams have been highly private about her pregnancy and the arrival of her baby, but her recent picture donning the Versace couture along with the breast pumps tells how much happy she is to share the joys of motherhood with the world. The Academy Award-winner recently posed for the cover of Girls. Girls. Girls. Magazine, and she herself requested to include the pictures of herself sitting with the breast pump while still dressed in fancy couture. She was wearing Bulgari jewellery in the shoot.
Publisher Claire Rothstein took to Instagram to share the story behind this picture. She wrote, "A million reasons why I wanted to post this picture. Obviously #rachelmcadams looks incredible and was quite literally the dream to work with but also this shoot was about 6 months post her giving birth to her son, so between shots she was expressing/pumping as still breastfeeding. We had a mutual appreciation disagreement about who's idea it was to take this picture but I'm still sure it was hers which makes me love her even more. Breastfeeding is the most normal thing in the world and I can't for the life of me imagine why or how it is ever frowned upon or scared of. I don't even think it needs explaining but just wanted to put this out there, as if it even changes one person's perception of something so natural, so normal, so amazing then that's great. Besides she's wearing Versace and bulgariofficial diamonds and is just f****** major. Big shout out to all the girls"
The picture soon went viral and spread like a wildfire on the internet with mixed reactions. People can't stop praising Rachel McAdams for this bold step to remove the taboo around breastfeeding. However, there were some who were irked by the picture showing Rachel McAdams breast-pumping.
#RachelMcAdams pumping breast milk in Versace is the kind of power statement I needed today pic.twitter.com/WYbeMoygQS

— Leah Gibbon (@LeahGibbon) December 19, 2018
A lot of us mommies are texting each other about the picture of #RachelMcAdams pumping breast milk while wearing a #Versace outfit. This does not represent us. At all.

— Janice Dean (@JaniceDean) December 20, 2018
This ✨GEM✨ came across my screen as I was pumping today. Pump, work, pump, repeat. Thank you for celebrating that pumping life. @ClaireRothstein #RachelMcAdams pic.twitter.com/3MqU3M7WW9

— Jen Menendez (@iamjenmenendez) December 19, 2018
We find it completely normal and natural. What do you think about the picture? Do share your views with us on the comment section.