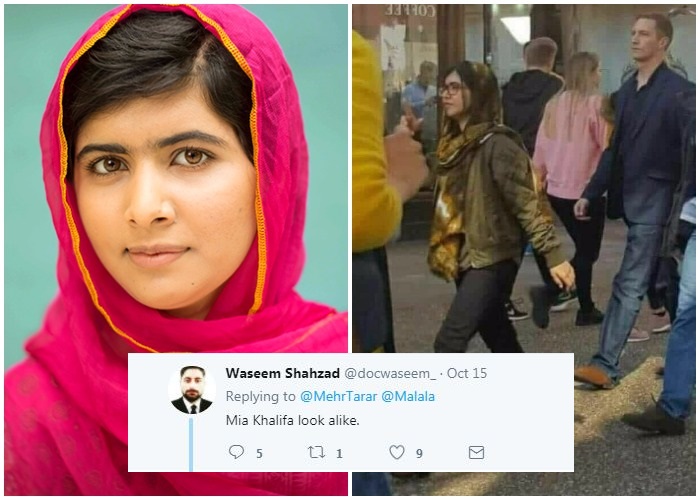 Trolls are not something alien to the popular faces of social media. After targeting Bollywood celebrities, the vicious trolls have now channelled towards Nobel Laureate Malala Yousafzai. In a picture that surfaced on social media, Malala was wearing skinny jeans and heels. However, the picture's credibility hasn't been verified yet. But trolls weren't going to see beyond her outfit. 
Mehr Tarar who sparked controversy for having a fight with Sunanda Pushkar, posted the picture with a caption. She wrote: 
Finally, a picture of @Malala where she is just being a normal young woman
It's quite remarkable how her head is always covered
Some compared Malala with pornstar Mia Khalifa. They said it looks like a picture of Mia Khalifa who was shot by Taliban in 2012 for advocating girls' education in Pakistan. 
Some even pointed out that its wrong to post pictures of a college girl without consent as it's invasive and unethical. 
Please don't share covertly-taken pictures of students without their express consent. It's invasive and unethical.

— Sarah Crook (@SarahRoseCrook) October 16, 2017
A user criticised Malala for wearing western clothes.
now jeans..shoes...soon that dupatta will be out

— Lunatic living. (@Lunatic6923) October 15, 2017
it will go on and on..wait and watch

— Lunatic living. (@Lunatic6923) October 15, 2017
A journalist tweeted that this picture appeared in a Pakistan newspaper. Hundreds of responses poured in, initiating a clammer of trolls. Amid the misogynist remarks, there were some who advocated a girl's right to wear anything she wants. 
Pakistani newspaper places pic of Malala wearing jeans next to a report of an earthquake in (her hometown) Swat pic.twitter.com/BfChGFzU1H

— omar r quraishi (@omar_quraishi) October 17, 2017
So u want to say Malala's jeans shook the whole Sawat 😂😂 is it Qayamat ki nishani ??😂😂

— Zainab🍀 (@GoStudyZaini) October 17, 2017
It is a sad state of affairs where a Noble Laureate is being lectured for her choice of clothes. 
However, the authenticity of the picture cannot be verified yet. In 2014, Malala Yousafzai was awarded the Nobel Peace Prize, which she shared with Kailash Satyarthi for their struggle against suppression of children and young people and for right of all children to education.