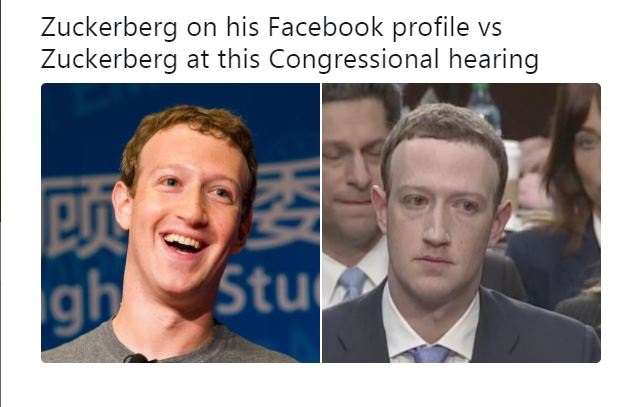 Facebook CEO Mark Zuckerberg returned to Capitol Hill on Wednesday for a second day of Congressional testimony over his companys handling of user data.
His appearance before the House Energy and Commerce Committee came less than 24 hours after a nearly five-hour grilling in the Senate, where lawmakers attacked Facebook for failing to protect its users' data and its inability to spot or stop Russia's use of the platform to try to interfere in the 2016 US Presidential election.
With 44 senators in presence, we can understand how tense the air inside the room might have been. As Twitters watched it live, some of them turned Zuckerberg's grim images into hilarious memes and jokes, and trust us when we say, they were brutal!
Senator: "Are you a human?"

Mark #Zuckerberg: "This an important question. My team will get back to you on that." pic.twitter.com/9C6uUDpQeD

— Mark Zuckerberg Memes (@ZuckerbergMemes) April 10, 2018
There is a 100% chance Mark #Zuckerberg is a robot 😂 pic.twitter.com/KkXiInctXh

— Mike Tokes (@MikeTokes) April 11, 2018
Joe Biden to Mark Zuckerberg "your hair smells delicious, Mark" pic.twitter.com/x47GRtlnon

— Mike (@Fuctupmind) April 11, 2018
Our senators got a chance to ask Mark #Zuckerberg all their @Facebook questions... pic.twitter.com/SsoUxcHV5U

— Jimmy Kimmel (@jimmykimmel) April 11, 2018
The internet is pretty much convinced that Facebook Founder Mark Zuckerberg is a robot. Look how his expressions changed in a fraction of second!
Indian comedy sketch group, AIB was in no mood to spare Mark Zuckerberg as they turned the sorry techie into a set of rib-tickling memes.