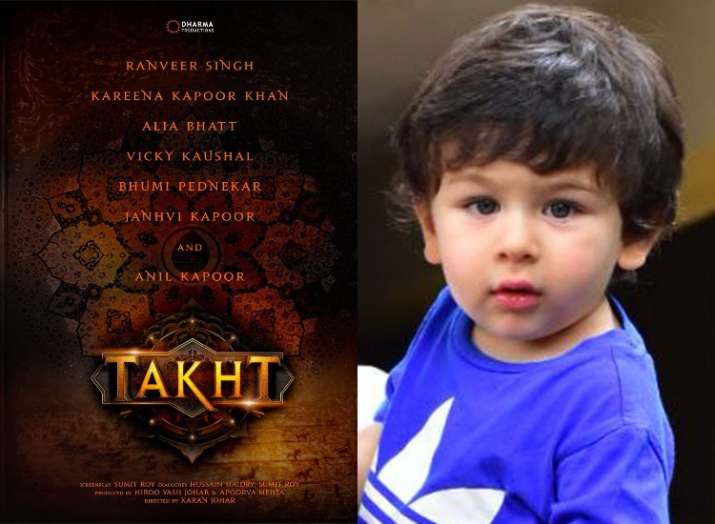 Karan Johar left everyone amused when he revealed the phenomenal star cast of his next directorial Takht. The movie will feature Bollywood biggies like Ranveer Singh, Alia Bhatt, Vicky Kaushal, Janhvi Kapoor, Bhumi Pednekar, Anil Kapoor and Kareena Kapoor Khan. While the fans are starstruck with the stellar cast, they just have one question in mind, Where is Taimur Ali Khan?
There is no denying that Taimur is fans favourite star kid and fans never miss out on any of his pictures that surface on the internet. When Karan Johar took to Twitter to share the poster of his next film, Twitterati showered him with all sorts of comments and most of them were related to Taimur's absence in the list of actors and nepotism. KJo wrote, "I am so excited and honoured to announce the lead cast of #TAKHT." 
I am so excited and honoured to announce the lead cast of #TAKHT@RanveerOfficial #KareenaKapoorKhan @aliaa08 @vickykaushal09 @psbhumi #JanhviKapoor @AnilKapoor #HirooYashJohar @apoorvamehta18@sumit_roy_ @hussainhaidry pic.twitter.com/ifgb8RC7uV

— Karan Johar (@karanjohar) August 9, 2018
Here are all the reactions that are soo funny, they will make your stomach hurt-
You forget Taimur.....😂😂

— prem narayan patel (@premnarayansays) August 9, 2018
Taimur has no time . He's running for PM post .

— Pretty Paris (@hindugirl17) August 9, 2018
Only taimur missing... 😂😂

— Raj Manoj Sonawane (@RaJMSonawane) August 9, 2018
We want #TaimurAliKhan please

— 🌸HEAD TAIMURIAN🌸 (@DevRukmini) August 9, 2018
Feeling bad for outsiders, especially actresses who don't even get half of the opportunities that Alia gets. Kjo loves to shove her down our throats. He really did serve her a career on a platter.

— Avonii (@avonii) August 9, 2018
hr historical movie m ranveer ka hona jruri h kya vo ab yhi movie kr skta h 😂😂😂😂😂 ek hi trh ka role kitna or kb tk log dekhnge 😂😂😂 #TAKHT

— Shreya🦋 (@shreyas83986731) August 9, 2018
All nepotism except Vicky and Bhumi. Howcome someone like Kangna Ranaut never finds herself in movies being cast by you! Your insecurity?

— ashok tyagi (@ashokt123) August 9, 2018
Lol and then people get pissed off when Kangana says something about Nepotism! This picture screams Nepotism!

— Hammad Akbar (@BigSSfan) August 9, 2018
Karan ke dil me Singh not King😐

— Roshan #ZeroATG☔ (@SrkiansBoss) August 9, 2018
Scheduled to release in 2020, the screenplay of the movie is by Sumit Roy and the dialogues are written by Hussain Haidry.