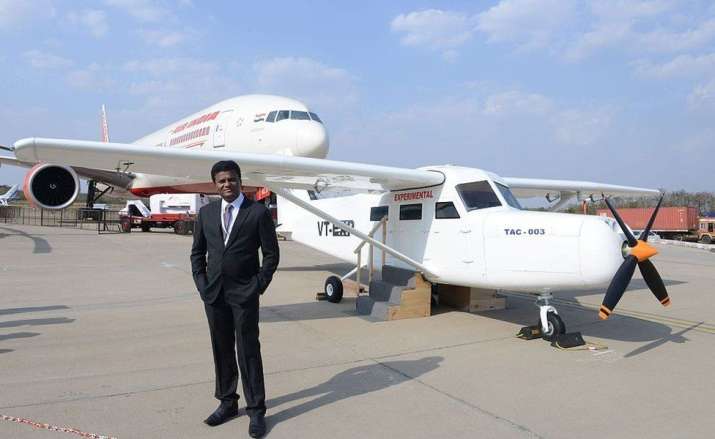 In an incredible achievement, a commercial pilot who made a full-fledged six-seater aircraft on the terrace of his building has been awarded registration by the Directorate General of Civil Aviation. Maharashtra Chief Minister Devendra Fadnavis officially handed over the DGCA certificate to Capt. Amol Yadav who is currently working as Deputy Chief Pilot with Jet Airways.
Working virtually single-handedely, Yadav built the six-seater aircraft on a residential building terrace in Kandivali suburb, north-west Mumbai, over the past six years and finally it has been accorded official recognition."Encouraging efforts... Great example of @makeinindia! Captain Amol Yadav gets certificate of registration from DGCA, meets CM @Dev_Fadnavis to thank his efforts and follow up with Hon PM @narendramodi & Government of India It is 1st Indian private company to get this certificate!," the Chief Minister's Office tweeted in a congratulatory message. The DGCA certification implies that Yadav can now undertake further tests and fly the aircraft in the open skies.
Yadav, 41, had displayed the aircraft during the "Make In India" mega-event in Mumbai last year which was inaugurated by Prime Minister Narendra Modi in the presence of several foreign dignitaries. At the event in February 2016, Civil Aviation Minister P. Ashok Gajapathi Raju and Fadnavis saw his aircraft, appreciated the efforts and had assured him all help to make his venture a success.
"The terrace atop my three-BHK flat is spread over around 1,600 square feet and served as my workshop for this aircraft which I created in the past over six years," Yadav told mediapersons.He said the inspiration to assemble a full-fledged plane came to him after he witnessed aviation buffs in the US buying phased-out aircraft and remodelling them into customised six-seater or twelve-seater flying machines.
Yadav's aircraft is presently parked on an airstrip in Dhule and can fly upto 13,000 feet, climbing at 1,500 feet per minute. It can achieve top speedd of 185 knots with a range of 2,000 kms. The state government is planning to allot a 155-acre plot in Palghar to Yadav where he can pursue his dream of building 20-seater passenger aircraft.
(With IANS inputs)