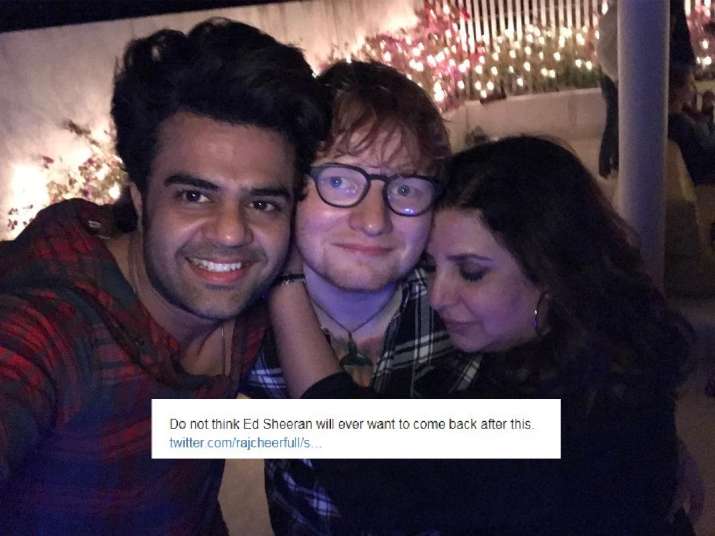 A couple of days ago we couldn't stop gushing over the selfies showing our beloved Bollywood stars partying hard with British pop singer Ed Sheeran. But Twitter saw a different story in those pictures. A cry for help! He attended a party hosted by filmmaker Farah Khan at her Lokhandwala residence which was attended by most of the A-listers of Bollywood. The very next day, social media was overflowing with the pictures from the gala affair. But each selfies narrated a story, a sad one. Who says? Well, not us, Twitter surely does. Here's how Twitterati trolled the after-party pictures and gave their funny logins to them.
The trolls went viral saying that Ed Sheeran's expressions were of 'cry for help'. It was like the popstar was stuck among people whom he hardly knew. The way Ed Sheeran posed in the selfies had many netizens thinking that he was being forced to click pictures with them. He posed patiently with every celebrity present under the roof that time. But Twitter can't fail to notice his 'awkward' expressions in the pictures. 
The industry chose to remain ignorant of his plight, Twitterati saw what they didn't- His awkwardness! 
That one friend who have no clue what personal space is. #FarahKhan is that clingy friend.#EdSheeranIndia pic.twitter.com/2RaD6y7gRf

— Amby Says (@ambyism) November 20, 2017
When u are done with the show and waiting for the cheque.#EdSheeranIndia pic.twitter.com/XZjMEOFskm

— Main bhi chowkidar 🧔 (@angadisuresh93) November 20, 2017
Ed Sheeran partying with Bollywood's elite is morse coding us with dead eyes and plastic smiles, begging to be saved. pic.twitter.com/iPpkE0awsU

— Arch (@vforvelvetta) November 19, 2017
Inner Ed Sheeran after getting captured in so many pics at Farah khan's Party last night #edSheeranIndia #edSheeRan 🏃 #edsheeranMumbai #bakshDobollywood pic.twitter.com/PMSwWonTIp

— Invincible _Obito (@Raju1221) November 19, 2017
So @edsheeran is in Mumbai and Bollywood being Bollywood, made him dance to Badri ki dulhaniya. I hope he knows that's not the best we got. 😓

— house of commons (@FindingPaper) November 19, 2017
I can't attend Ed Sheeran's concert in Mumbai tomorrow coz I am broke 😭😭 But atleast it would be fun watching all Bollywood actors collectively embarass themselves with their attention seeking drama and terrible fashion sense from the sidelines 😂 pic.twitter.com/GDxLEpm6Pf

— Suchita (@Suchita_14) November 18, 2017
Last Sunday, Ed Sheeran performed in Mumbai as a part of his 'Divide Tour'. He performed at the concert after attending the lavish party thrown by Farah Khan, along with some A-listers of Bollywood. The selfies of Ed with our Bollywood celebrities were doing rounds on internet. In one of the videos circulated on social media, the 'Shape of You' star was seen shaking his legs on Badrinath Ki Dulhania track.