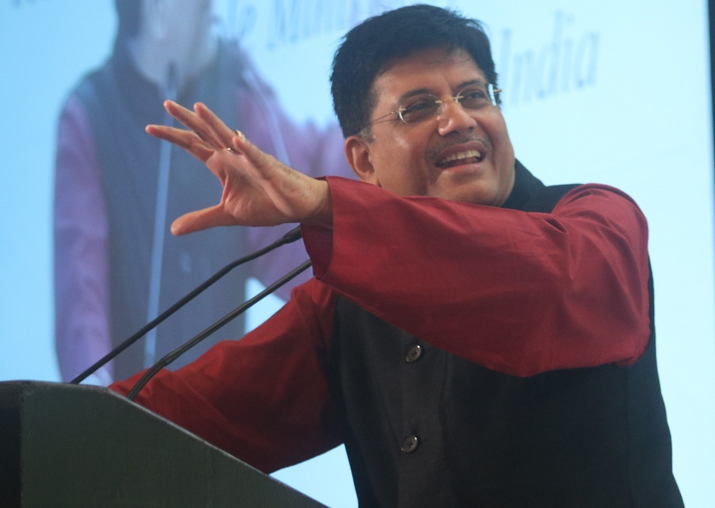 Indian Railways is working with a "will do, can do" spirit in order to achieve aggressive targets and will achieve 100 per cent electrification of lines, Railway Minister Piyush Goyal said on Friday.
"Indian Railways is working with a renewed attitude and confidence. The mindset of Indian Railways has changed," Goyal said here after inaugurating the International Conference on Green Initiatives and Railway Electrification. 
"Indian Railways is working with a 'will do, can do' spirit that we can achieve aggressive targets. For government, development is a positive agenda," he said. 
He said that railways is working on a mission mode and coming up with solutions to problems. "Indian Railways is working with a commitment to serve in a time-bound manner for the common people," he said. 
Emphasising on safety, the Minister said it was working on a "time-bound manner, skilfully, effectively to transform Indian Railways truly to a world class, safe and modern transporter". 
Emphasising on completing the electrification of railway tracks, Goyal said, "Two and half years after launching UJALA, more than 750 million incandescent bulbs in India have been replaced by LED bulbs. As India showed the world a new light in replacement of LED bulbs, similarly Indian Railways shall lead the world by achieving 100 per cent electrification."
He said railways will be able to accomplish 100 per cent electrification at lower prices with "an incentive cum penalty" framework scheme. 
"A holistic plan is required to carry out 100 per cent electrification. To think is easy, to act is difficult but to act as you think is most difficult" and Indian Railways has accepted this most difficult challenge, he said. 
"We will have to change as per the best in the world. With New India, we have to build New Indian Railways which is modern, safe and run with better speed," the Minister added.