Follow us on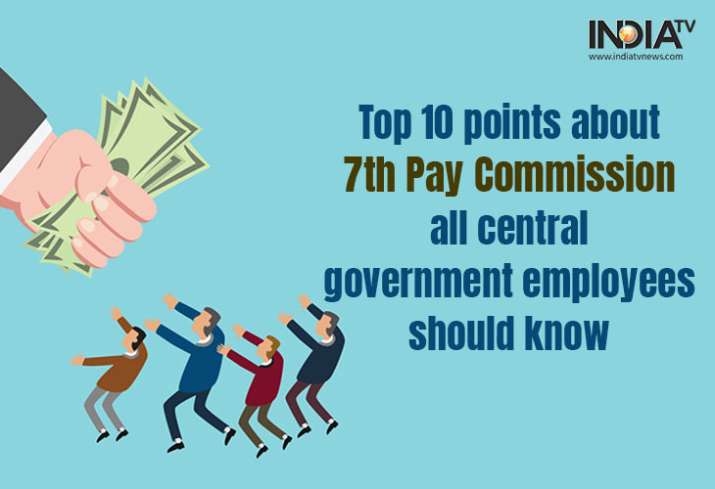 The PM Narendra Modi-led NDA government in the Union Budget 2019, is likely to hike the minimum pay and fitment factor for Central Government employees beyond what it had offered in the 7th Pay Commission. All central government employees should know these important 10 points about the 7th Pay Commission mentioned below.
Notably, the Seventh Pay Commission is an administrative system that is set up by the Government of India to determine the salaries of government employees. Every Pay Commission does its research and then produces its recommendations to the Government of India on the same.
7th Pay Commission benefits per 1 crore central government employees, including around 53 lakh pensioners.  However, the employees of Central Government are not happy with the recommendations of the 7th Pay Commission recommendations regarding the minimum pay scale approved by the
PM Narendra Modi government which came into effect from April 1, 2016. 
In 5th CPC, the employees had to wait for 19 months tenure while for around 32 months in 6th CPC. Now, the central govt employees are waiting for the 7th CPC, which is likely to be tabled in the upcoming Union Budget 2019. For all government employees and the pensioners, here are some important facts that one should not miss.
HERE ARE 10 POINTS ALL GOVERNMENT EMPLOYEES MUST KNOW, AHEAD OF 7TH CPC:
The minimum pay amount has been increased from Rs 7000 to 18,000 per month. From now the starting salary of the newly recruited employee at the lowest level will now be Rs 18000. While for a freshly recruited Class I officer, it will be Rs 56100, says report.
A fitment factor of 2.57 will be applied across all Levels in the Pay Matrices, for the purpose of revision of pay and pension, as per reports.
Rate of increment has been retained at 3 %. In future this will benefit the employees on account of higher basic pay as the annual increments that they will earn (in the future) will be 2.57 times than at present.
The Commission recommended present system Pay Bands and Grade Pay has been distributed and a new Pay Matrix has been approved. The status of the employee will now be determined by the level in the Pay Matrix. Also, for Civilians, Defence Personnel and for Military Nursing Service, Separate Pay Matrices have been drawn up. However, the principle and rationale behind these matrices are the same.
In the Defence Pay Matrix, the Cabinet has improvised it by enhancing Index of Rationalisation for Level 13A (Brigadier) and providing for additional stages in Level 12A (Lieutenant Colonel), 13 (Colonel) and 13A (Brigadier). This has been done in order to bring parity with Central Armed Police Forces (CAPF) counterparts at the maximum of the respective Levels.
Gratuity has been enhanced from Rs 10 to 20 lakh. The ceiling on gratuity will increase by 25 per cent whenever DA (Dearness Allowance) rises by 50 per cent.
A common regime for payment of ex-gratia compensation for civil and defence forces personnel has been enhanced from Rs 10-20 lakh to 25-45 lakh for different categories. This will be payable to 'Next of Kin' with the existing rates.
Rates of Military Service Pay for various categories of Defence Forces personnel has been revised from Rs 1000, 2000, 4200 & 6000 to 3600, 5200, 10800 & 15500, respectively.
In terms of leave like--- Hospital Leave, Special Disability Leave and Sick Leave have been subsumed into a composite new Leave named 'Work Related Illness and Injury Leave' (WRIIL). All employees will be granted full pay and allowances during the entire period of hospitalization on account of WRIIL.
On Pension, the Cabinet has approved the general recommendations of the Commission on pension and benefits related to it. The Commission recommendation on pension revision has been accepted subject to feasibility of their implementation.