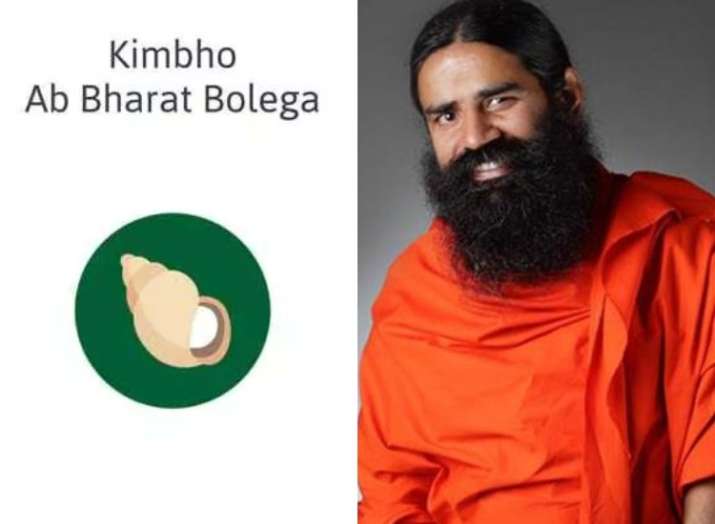 While the world is crazy about the messaging app Whatsapp, Yoga guru Ramdev decided to give it a competition with its Swadeshi app called Kimbho. On Wednesday, Baba Ramdev launched a new messaging application called Kimbho under his flagship company Patanjali. However, a fresh update says that Patanjali has withdrawn its Messaging App saying "Technical Work In Progress". The company said it was just a "one-day trial", Ramdev's Patanjali said messaging app Kimbho will be officially launched soon.
Yesterday, Patanjali's spokesperson SK Tijarawala tweeted, "Now Bharat will speak. After launching sim cards, Baba Ramdev has launched a new messaging application called Kimbho. Now Whats App will be given a competition. Our own #SwadeshiMessagingplatform. Download it directly from Google Play store." Kimbho application is touted to be a competitor of the messaging app WhatsApp. The tagline of Kimbho is kept as "Ab Bharat Bolega".
#किम्भो संस्कृत में हाल-चाल पूछने और खैर-खबर लेने के लिए आम संवाद में प्रयोग होता है जैसे हम बोलते हैं "किम्भो भैया" यानी..क्या हाल है भैया और क्या चल रहा है, क्या खबर है?
अब भारत बोलेगा..किम्भो
अब भारत पूछेगा ..किम्भो@narendramodi @yogrishiramdev @bst_official @Ach_Balkrishna https://t.co/6viDpigQHM

— Tijarawala SK (@tijarawala) May 30, 2018
Kimbho is a Sanskrit word, which is used to ask, "How are you? What's new?" explained Mr Tijawarawala.
Popular messaging app Whatsapp already has over 1 billion downloads from Google Play store, so it will be difficult for this new app to beat its popularity. The decision to launch a messaging app came after Baba Ramdev launched Swadeshi Samriddhi SIM cards, in alliance with Bharat Sanchar Nigam Limited (BSNL), earlier on May 27. Initially, only the employees and office bearers of Patanjali will be able to avail the benefits of the SIM card. After its full-fledged launch, people will get discount of 10 per cent on Patanjali products with this card.
Patanjali's messaging app is listed on both Google Play and Apple App Store, which makes it easily accessible for all. The app has almost all the same features as that of Whatsapp. It allows you to send and receive messages and create groups. It also allows you to broadcast messages to multiple users along with following your favourite celebrities on the app. One can send doodles as well, similar to apps like Snapchat and Instagram. The app also supports video calling and voice calling and allows users to share multimedia stickers.
The app looks quite appealing, however, French Security Researcher Elliot Alderson claimed through his tweet that the app is a clone of another app called Bolo.
The @KimbhoApp is a copy paste of another #application. The description and the screenshots in the app stores are the same. Moreover, the #Kimbho app is making request to bolomessenger[.]com pic.twitter.com/gOKOhash5X

— Elliot Alderson (@fs0c131y) May 31, 2018
Yoga guru Ramdev claims that these initiatives are part of the group's 'swadeshi' mission to promote indigenous products. Patanjali has also branched out into private security, offering army-like training for recruits. 
It remain to be seen when the app is relaunched.