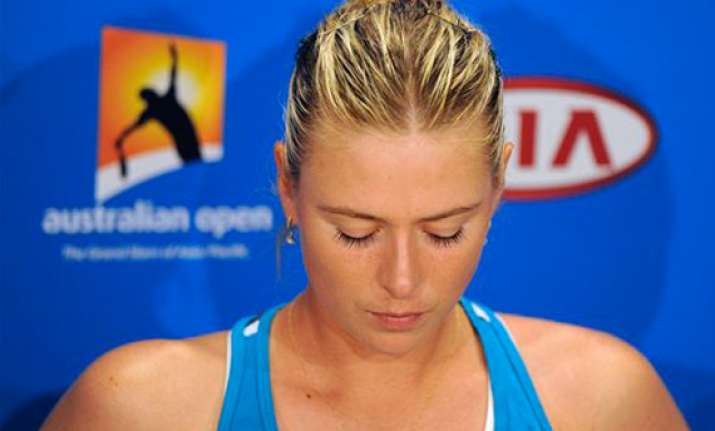 Melbourne, Jan 29: Russia's Maria Sharapova insisted the best was still ahead of her despite a devastating Australian Open loss to exciting young Belarusian Victoria Azarenka on Saturday.

The three-time Grand Slam winner went into the final full of confidence against Azarenka, who was playing her first major title match, but her game went to pieces for a 6-3, 6-0 loss in just 82 minutes.

Despite being only two years older than Azarenka at 24, Sharapova has far more experience than Azarenka and has been playing on the big stages since her teens and won Wimbledon in 2004 as a 17-year-old.

But with some of the greatest names in the sport watching on, including Rod Laver and Margaret Court, it was Azarenka who played like the veteran and Sharapova the nervous debutante.

"She did everything better than I did today. I had a good first couple of games, and that was about it," Sharapova said bluntly.

But Sharapova added that while she was disappointed at the heavy loss, she was looking ahead to the rest of the year with optimism.

"Obviously to get to the final is a good achievement, but to end up being the one that loses is always tough, no matter what sport you're in," she said.

"But I'm proud of the fact that I made it this far. It's been a few years since I've been in the finals of the Australian Open.

"It's a good start to the year for me. I have a lot to look forward to this year."

Sharapova won the last of her three Grand Slams in Melbourne in 2008, before shoulder surgery later that year knocked her out of the sport for nine months and set her career back on its heels.

"It's frustrating, but I have a pretty good head on my shoulders in terms of having a good perspective on sport and life," she said. "And as hard as it is and as much as you want to be the champion, there's only one.

"That's why the feeling is so special when you do achieve that. That's why the work is so hard and extreme.

"That's why the pleasure that you get and the excitement is what you work for, because you know how special it is."

She said those moments were the reason she had worked so hard on her rehabilitation and on regaining her place among the elite.

"I don't regret the work that I put in at all, getting to this stage is great for me, especially not having played matches for three months," she said.

"I honestly didn't know what to expect health-wise and game-wise. You just don't know.

"So to be at this stage is good for me. That's why I'm looking forward to the rest of the year."

Sharapova's best surface is grass and with the Olympics in London a month after Wimbledon, she has a realistic chance of adding more titles to her collection.

"Personally it's something I've been looking forward towards for a long time, and that's a big goal of mine," she said. "To have a long grass season will be really fun."