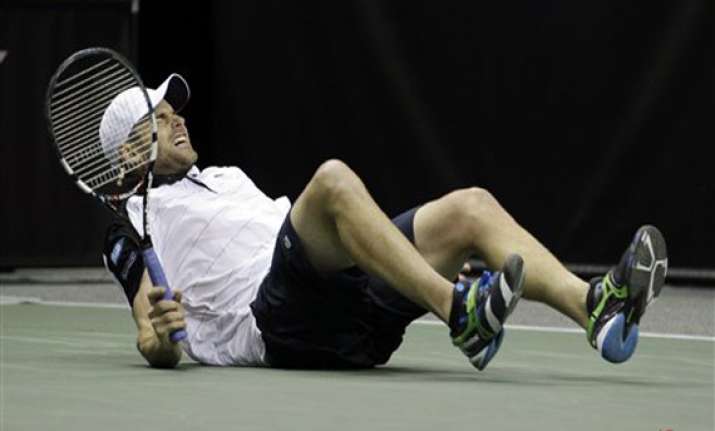 Delray Beach, Florida, Mar 2: Andy Roddick reached his second quarterfinal of the year with a 6-4, 7-5 victory over Denis Istomin of Uzbekistan at the Delray Beach InternationalTennis Championship on Thursday.

Roddick avenged his loss to Istomin — in his other 2012 quarterfinal appearance — at last month's San Jose tournament.

Roddick is currently ranked No. 30, which is the lowest he's been since he held that same ranking in 2001. He's been dealing with hamstring and ankle problems this year and he's struggling to find a range with his game.

Roddick only got half his first serves in against the 51st-ranked Istomin.

"I'm feeling better than I did a couple of matches ago," Roddick said. "I served horrendously and still won and was still able to break serve."

In the second set, Istomin led the penultimate game 40-15 but then made four consecutive unforced errors to hand Roddick the service break.

Roddick eventually managed to serve out the match in the next game, but only after seeing off three break points and needing two match points.

"I got it done in the end," Roddick said. "You want to close. The misses I had were positive misses because they were played on my terms. That was a big step."

Roddick will play seventh-seeded Kevin Anderson of South Africa in the quarterfinals.

Anderson topped Xavier Malisse of Belgium 6-3, 3-6, 6-3. The 2.01-meter (6-foot-8) Anderson had nine aces and won 77 percent of his first serve points, although his first serve percentage was only 55 percent.

"I thought it really gusty, really windy, and it wasn't easy to get a good rhythm," Anderson said. "It was tough for both of us because we couldn't play the kind of tennis we wanted to play."

Malisse was a two-time former Delray Beach champion (2005 and '07) and came into the match with a 25-9 record at this tournament. He did well when his forehand was kicking in, but otherwise struggled.

Fifth-seeded Philipp Kohlschreiber of Germany also advanced to Friday's quarterfinals. He defeated 57th-ranked Ivan Dodig of Croatia 6-2, 6-2.

Kohlschreiber saved both break points he faced on serve and took advantage of four of 10 break point opportunities he had on Dodig's serve.
Kohlschreiber broke serve in the fifth and seventh games of the first set and the third and seventh games of the second set.

Kohlschreiber is now 12-5 in 2012 and has reached the semifinals in Auckland and Montpellier, France.

The German's quarterfinal opponent will be Dudi Sela of Israel, who earned his quarterfinal spot with a 6-4, 6-4 win over Jarkko Nieminen of Finland.

Sela, who also reached the Chennai quarterfinals this season, won 25 of the 30 points when his first serve went into play."
It was difficult conditions because the wind was swirling," said Sela, who said the weather is similar to what he's used to in Israel.

"It was tough to serve and you had to put your first serves in. I think I served very well and I didn't give him any presents."