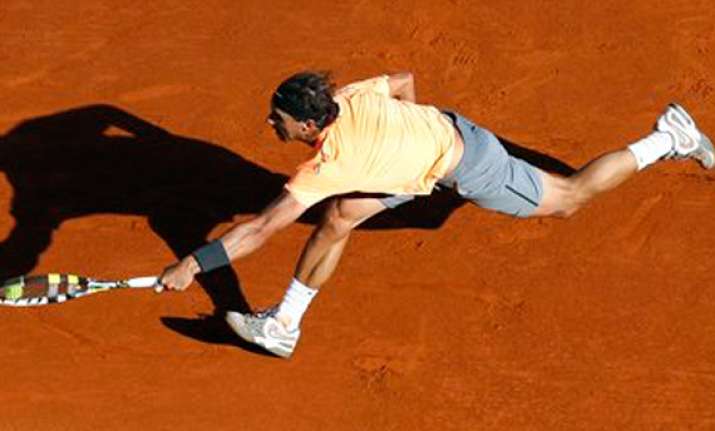 Monaco, Apr 22:
Rafael Nadal finally managed to beat Novak Djokovic in a final, thrashing the top-ranked Serb 6-3, 6-1 on Sunday to win the Monte Carlo Masters for the eighth consecutive year and end a run of seven straight defeats to his rival in title matches.
Nadal was hardly troubled by Djokovic this time and broke the Serb's serve five times in a totally one-sided contest.
He thrust his hands in the air after clinching victory in style with an ace that flew past the beleaguered Djokovic, who beat Nadal in an epic Australian Open final this year.
"Congratulations, you deserved to win for how you played this week," Djokovic told Nadal on court after the match. "I'm happy to have reached the final for the second time."
Nadal had promised to be aggressive and, after Djokovic held his opening service game to love, the Spaniard was relentless in harrying the Serb all over the court. It was his first title since last year's French Open and his 42nd straight win in Monte Carlo.
Djokovic, who has been playing through grief since the death of his grandfather on Thursday, struggled to find a rhythm, making 25 unforced errors to just 11 winners. Nadal, however, timed most of his shots to perfection, and pushed Djokovic further and further back.
The breezy conditions seemed to bother Djokovic more than they did Nadal, although the swirling winds were not as intense as Saturday.
Nadal, the 10-time Grand Slam champion, found his range very quickly and broke Djokovic in the third game when the Serb's backhand went wide.
While Djokovic held his next service game with great difficulty, Nadal won his to love to take a 4-2 lead.
Djokovic was up 40-15 in the next but was surprised when a couple of mistimed returns from Nadal landed just in. That seemed to frustrate the Serb and he gave Nadal another break point with a sloppy backhand that went wide. The Serb saved it and then held with a beautifully weighted drop shot.
But Nadal broke him again in the ninth game to take the opening set, with Djokovic yet again planting a backhand wide.
Another long backhand in the second set gave Nadal an easy break and he then held to love to take a solid 3-0 lead.
That was soon 4-0 as Nadal won a long rally on break point. Djokovic looked to have won it with a big forehand, but Nadal somehow managed to lob Djokovic at full stretch. The ball landed right at the top of the court, surprising Djokovic, whose hurried return sat up nicely for Nadal to whack another brutal forehand winner.
Although Djokovic broke straight back, any thought of a comeback was snuffed out by Nadal when he broke Djokovic back to love.
Nadal now leads their head-to-heads 17-14 but it was his first win against Djokovic since a group-stage match at the 2010 ATP Finals in London. Nadal has not lost in Monte Carlo since 2003 -- he was injured the following year.