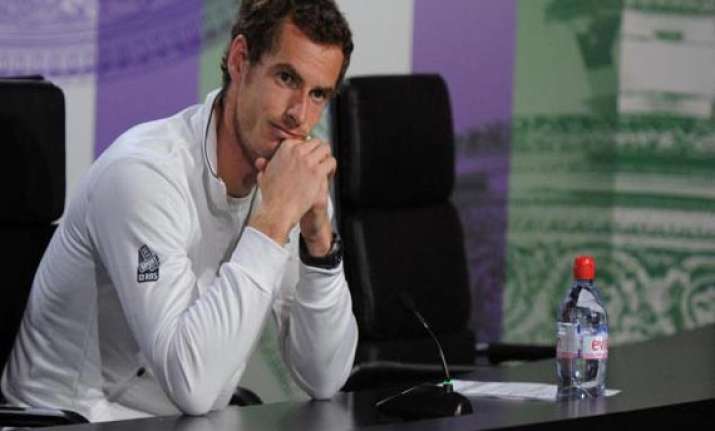 London, July 8: Andy Murray won Wimbledon, of course, the first British man in 77 years to do it. He won last year's US Open, too. And an Olympic gold medal.Yet he still sits at No. 2 in the ATP rankings.That's all fine by him.
A day after his historic victory at the All England Club, Murray said he is far more interested in winning additional Grand Slam titles than reaching No. 1.
He has played in the finals of the last four major tournaments he entered Asked on Monday if moving up to the top spot is his next goal, Murray replied: "I don't know. It's a tough one for me, because right now I've won two Slams and ... and (won) the Olympic gold, and I'm nowhere near being No. 1. I don't know exactly why that is."But Murray added that he'd be OK with never reaching No. 1.
"I would rather not get to No. 1 and win more Grand Slams," he said, "than never win another Grand Slam and get to No. 1. I'd rather try to win more Slams."
Pictures of Murray graced the front pages of British newspapers on Monday, and there's already buzz building about whether he will be granted knighthood.
Murray was asked on Monday what he thinks about that.
"I don't really know," he said, sighing and resting his chin on his left hand. "I mean, it's a nice thing to have, or be offered. I think just because everyone's waited for such a long, long time for this that's probably why it would be suggested, but I don't know if it merits that."
Murray now will take some time off to rest and enjoy his victory, before gearing up to prepare for the US Open.
"I hope I don't lose hunger. You know, I think I should be able to use this as motivation. I know what it's like losing in a Wimbledon final, and I know what it's like winning one. And it's a lot better winning," Murray said. "So the hard work is worth it, and I just need to make sure I don't get sidetracked by anything."
"I do really try my best to avoid sort of everything that goes on with playing at Wimbledon, with the media coverage and the TV stuff. I try to avoid it because I just can't get wrapped up in it. And it can be a distraction," he said.
"But, look, I know how long it's been. It's been a long time; there have been a lot of close calls. ... It'll be nice that as a nation, we don't have to look at Wimbledon as being sort of a negative. It can be viewed as a positive," Murray continued. "And I just hope it's not another 70-odd years again."