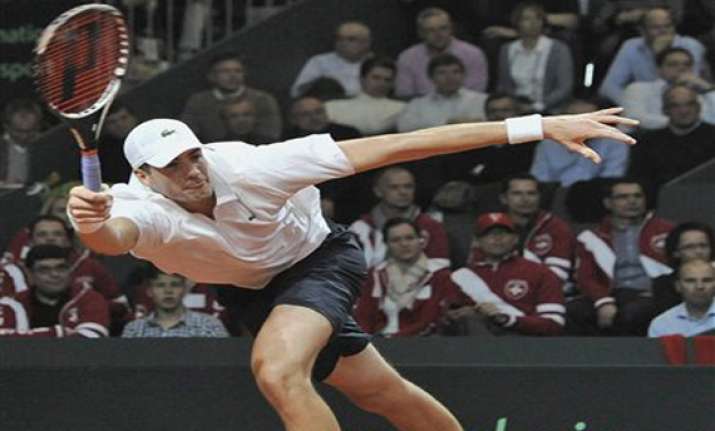 Delray Beach, Florida, Mar 3: John Isner reached his first semifinal of the year with a 6-3, 6-2 win over Bernard Tomic of Australia at the Delray Beach International Tennis Championships on Friday.

In a swirling wind that annoyed players, Isner put up nine aces and won four of his nine service games at love.

"I played well right from the get-go," Isner said. "When he has time, that's when he gets comfortable. So I wanted to keep the points short, which is what I want to do every match.
"The wind was very, very tricky."

Isner will play either fourth-seeded Andy Roddick or seventh-seeded Kevin Anderson of South Africa.

Dudi Sela of Israel reached the semifinals with a 6-4, 6-7 (4), 6-0 win over fifth-seeded Philipp Kohlschreiber of Germany.

The 75th-ranked Sela reached his first semis since 2010 in Chennai, India. It's Sela's fourth career semifinal. His only final was at 2008 Beijing, where he lost to Roddick.

Sela was in position to close out Friday's match in two sets, but couldn't get the job done.

He was serving at 30-0 but lost the next four points to send the second set into a tiebreaker, which he lost. He came back to own the third set, losing only four points in his three service games.

"I was supposed to win in two sets," Sela said. "I was 6-5 in the second set, 30-love serving, and I got a little nervous and he went for two good shots.

"But I'm happy I played well in the third, stayed positive and won the match."

Sela will face Australian qualifier Marinko Matosevic in the semifinals.

The 173rd-ranked Matosevic scored a 3-6, 6-1, 6-1 win over 76th-ranked Ernests Gulbis of Latvia.

Gulbis, the 2010 champion here, double-faulted eight times. Three came in the sixth game of the second set, with two straight double faults on the final two points of that game.

Now Matosevic, who is on an 11-match winning streak, is into his first career ATP semifinal.

He won five matches to win the Caloundra Challenger in Australia last month, and between qualifying and main draw matches he has already won six matches in this tournament.

"It feels good, especially coming through qualifying because it feels like I really earned it," Matosevic said.
"The conditions were really tough and the wind was really getting me down in the first set. I just wasn't making enough balls and returns."I just let him beat himself in the end."