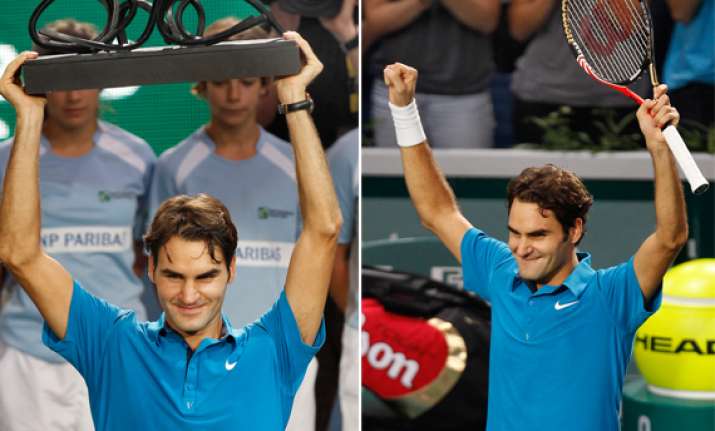 Paris, Nov 14: Roger Federer beat Jo-Wilfried Tsonga 6-1, 7-6 (3) on Sunday to win the Paris Masters for the first time and clinch the 69th title of his glittering career.

The 16-time Grand Slam champion had never previously reached the final in Paris, but gave the sixth-seeded Frenchman little chance after saving two break points in his opening service game.

"I've been waiting for this for a long time," Federer said. "I'm really happy to have finally made it."

Federer's 18th Masters title puts him one ahead of Andre Agassi and one behind all-time leader Rafael Nadal. The 30-year-old from Switzerland is on a 12-match winning streak after winning the Swiss Indoors last week.

Tsonga improved his serve in the second set, but Federer was simply too strong in the tiebreaker, taking victory on his third match point when Tsonga's return landed out.

Tsonga won the tournament in 2008 but was let down by too many unforced errors on his forehand as he tried to find a way to pressure Federer in their sixth meeting this year.

"I just wish I could have competed more," said Tsonga, who this year beat Federer in the quarterfinals at Wimbledon, but lost at the same stage to the Swiss star at the U.S. Open. Overall, Federer now leads Tsonga 6-3.

Federer took only 80 minutes to beat Tomas Berdych in straight sets in Saturday's semifinals, while Tsonga labored for three hours and saved three match points before getting the better of unseeded American John Isner.

Federer's sharpness showed as he mercilessly attacked Tsonga's weak second serve in the first set. He opened up a 4-0 lead after Tsonga, remonstrating with himself over too many loose forehands, double-faulted.

The opening set lasted only 30 minutes, with Federer clinching it with a whipped winner into the open court after Tsonga returned a strong second serve to Federer's forehand.

Tsonga had to raise his game in the second set or risk a thrashing, and he dug out a crosscourt winner with a booming forehand in the fourth game to set up break point. With Federer on second serve, Tsonga missed his chance when his hurried forehand went out.

With Federer's seemingly impregnable serve dipping for the first time in the match, the Frenchman missed another opportunity at 30-40 in the eighth game when he sent a forehand long.

Federer hardly had to dig deep, but he did thrill the crowd at the Bercy arena with one moment of brilliance in the next game.

A closely-contested rally saw Tsonga send Federer scampering to the back of the court to retrieve a lob. Federer waited for the ball to sit up nicely, span around and hit a devastating backhand pass without even needing to look where Tsonga was.

Tsonga looked nervous in the tiebreaker, netting a forehand long and a backhand into the net—either side of Federer's forehand winner and service winner—to trail 0-4.

Federer raced to 6-1, and though Tsonga saved two match points with a neat drop shot and a service winner, it was a brief reprieve from an inevitable ending.

Having won the Swiss indoors and Paris Masters back to back, Federer heads to London in fine form for the eight-man ATP World Tour Finals in London.