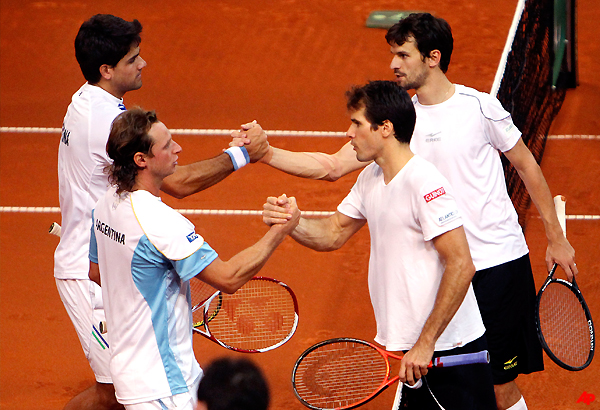 Bamberg, Germany, Feb 13: Cedrik-Marcel Stebe salvaged some pride for Germany by beating Eduardo Schwank 7-6 (1), 7-5 in a consolation win against Argentina in the first round of the Davis Cup on Sunday.

Argentina won the best-of-five series 4-1 and will play Croatia in the quarterfinals in April. Germany faces a playoff to stay in the World Group.

Earlier Sunday, Juan Ignacio Chela defeated Florian Mayer 7-5, 7-5 to stretch Argentina's lead to 4-0.

"We did great here and it's great to reach the quarterfinals," Chela said. "It's not easy for us to come here in February. We are playing in South America normally at this time. We had a long trip here. But we arrived fine and confident."

The visitors clinched their place in the quarters on Saturday, when Schwank and David Nalbandian rallied from two sets down to beat Tommy Haas and Philipp Petzschner 3-6, 4-6, 6-4, 6-3, 6-4 to decide the series.

"Argentina were the strong team we expected and they displayed why they are number three in the world," Germany captain Patrik Kuhnen said.

Argentina was the runner-up last year to Spain and is seeking its first title after losing four finals. Germany has won three titles.