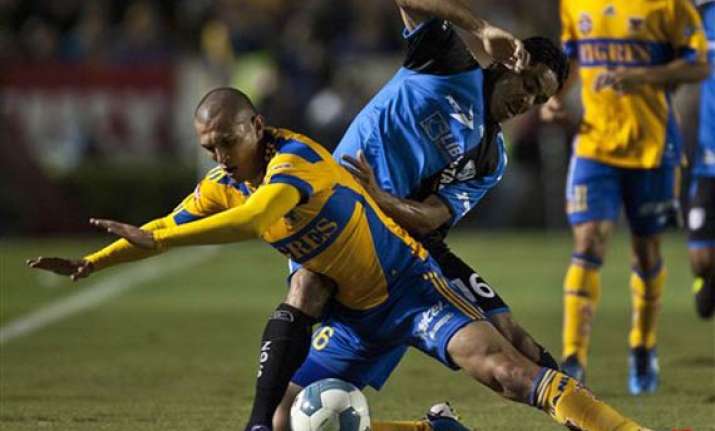 Mexico City , Dec 5 : Tigres will play Santos in the final of Mexico's Apertura tournament after both teams won their weekend semifinals.
Tigres defeated Queretaro 1-0 on Sunday, while Santos overcame last season's runner-up Morelia 3-2 on Saturday.

The first leg of the final is scheduled for Thursday, with the return leg on Sunday.Tigres, looking for their first championship since 1982, only needed a draw to advance after a 0-0 draw in the first leg of their semifinal.

Queretaro defender Manuel Lopez gave Tigres the victory when he headed a left wing cross into his own net, under no immediate pressure, in the 44th minute.

Queretaro's Marco Jimenez was ruled to have handled the ball inside the penalty area in the 57th, but Hector Mancilla*s penalty was saved by Queretaro keeper Liborio Sanchez.

Tigres held onto the one goal lead, with Queretaro only having one shot on goal all game.  Queretaro went down to 10 men just before the final whistle when Michel Vazquez was sent off for a high challenge.

Morelia came into Saturday*s game with a 2-1 lead from the first leg, but had defender Joel Huiqui sent off in the 33rd minute for hacking down Santos striker Oribe Peralta inside the penalty area as he was about to shoot.Juan Pablo Rodriguez converted the penalty to put Santos one goal up.

Ecuadorian Christian Suarez scored the second in the 52nd, driving a shot into the roof of the net from the right hand side of the area.Suarez added another in 64th, leaving Morelia needing three goals to advance to the final.

Morelia's Angel Sepulveda scored with a header in the 74th minute and got a second in the 86th, chipping over the goalkeeper with an overhead kick.  
The semifinal ended 4-4 on aggregate over the two legs, but Santos went through because they finished above Morelia in the regular season table.The final will be Santos' third in the last four tournaments.