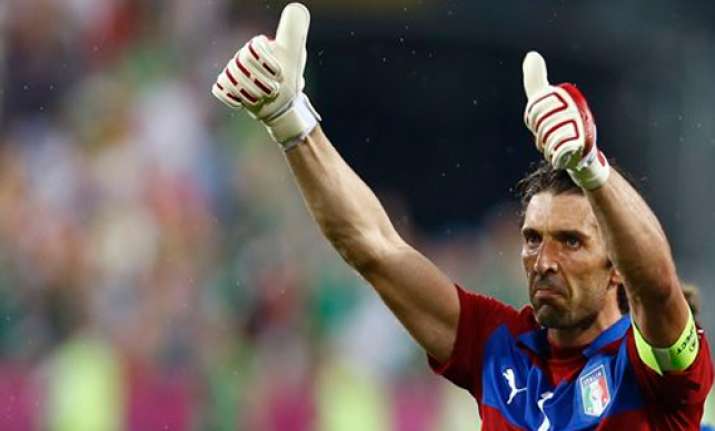 Poland, Jun 22: 
With surprisingly little fan support in stadiums at the European Championship, Italy is taking motivation from a passionate message sent to the squad by the country's president.
His voice cracking with emotion, Giorgio Napolitano wished the team well ahead of Sunday's quarterfinal with England, saying advancing from the group stage had provided a boost to the nation.
Later, Italy captain Gianluigi Buffon opened a routine news conference with a statement to explain how much the message means to the squad, which has been affected by a match-fixing and betting scandal back home.
"In a tough time for our country and for our profession, it gives us a lot of strength," said Buffon, who recently had his banking records examined on suspicion he made large bets. "Spoken by someone of his stature, it doesn't go unobserved. ... We hope we can repay him, and our nation, with the pride and joy that comes with wearing this shirt."
Napolitano attended Italy's opening 1-1 draw with Spain, and hugged Buffon after going down to the changing room after the match. No Italian politicians will attend the match in Kiev to protest the treatment of jailed Ukraine opposition leader Yulia Tymoshenko.
The presence of the 86-year-old Napolitano evoked memories of former Italy President Sandro Pertini cheering the Azzurri on during their title run at the 1982 World Cup, which came in the wake of a similar betting scandal.
"We really created a special feeling of reciprocal respect," Buffon said Friday. "He's our top citizen and also our top fan."
While never known for traveling en masse, Italian supporters were greatly outnumbered at each of the team's group games against Spain, Croatia and Ireland. With Italy hit by hard economic times, only 3,000 fans are expected in Kiev compared to more than 10,000 English supporters.
Special charter planes arranged to fly fans in have been canceled due to low demand.
The week before Italy flew to Poland, reports surfaced over large payments from Buffon to the owner of a tobacco shop in Parma that is also a betting parlor. Buffon has not been placed under investigation and is not accused of any wrongdoing, but the revelations still shook the Azzurri camp.
Also, center back Leonardo Bonucci is under investigation for match-fixing and fullback Domenico Criscito was a late cut from the squad after he, too, was placed under investigation.
Buffon has been Italy's starting goalkeeper for more than a decade and, with 117 appearances, is the Azzurri's most experienced player.
When Italy won the 2006 World Cup amid a similar match-fixing scandal involving his Juventus club, Buffon was one of the standout players—conceding only two goals in seven matches, with one of them an own-goal and the other a penalty from France's Zinedine Zidane in the final.
"We nearly always have (a scandal)," Buffon said. "So we're probably used to living with these difficulties."