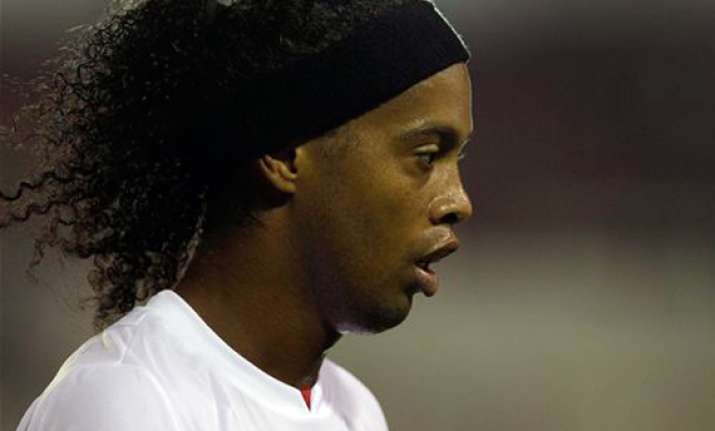 Sao Paulo, March 5: Ronaldinho converted a late penalty to give Flamengo a 2-1 win over Duque de Caxias in a match in which goalkeeper Felipe had to leave the field in an ambulance after a collision with an opponent.

Felipe sustained a head trauma and was taken to a hospital for precautionary tests, but doctors said he was doing fine.

Former CSKA striker Vagner Love also scored for Flamengo, getting his fourth goal in as many matches.

Argentine striker German Herrera scored twice in Botafogo's 3-1 win over Volta Redonda, while Ecuador's Carlos Tenorio ruptured his Achilles tendon in Vasco da Gama's 2-0 win over Olaria on Saturday.

In the Sao Paulo state tournament, Santos moved near the top of the standings by beating leader Corinthians 1-0 for its seventh win in a row.

The match was marked by the matchup between former Brazil striker Adriano and current sensation Neymar, but it was Santos playmaker Paulo Henrique Ganso who dominated and striker Ibson who netted the winner.

Flamengo beat Duque de Caxias in Macae in the second round of the Rio Cup, the second stage of the Rio de Janeiro state championship.

Felipe passed out for a few moments after colliding with Duque de Caxias striker Gilcimar in the 20th minute.

He dived to his right for a low cross into the area and his head hit Gilcimar's knee as both players went for the ball.

Doctors spent several minutes attending to Felipe, who was transported directly from the field to a hospital in an ambulance.

"It was a head trauma but there is no permanent injury," team doctor Marcio Tanure told local media. "It could have been something more serious but fortunately it wasn't."

The goalkeeper will not be able to play in the team's Copa Libertadores match against Ecuador's Emelec on Thursday in Rio.

Ronaldinho scored Flamengo's winner with a penalty in the 83rd after Vagner Love was held by a defender inside the area. Vagner Love, who has scored a goal in each of the last four matches, opened the scoring in the 11th, and Rodrigues equalized for Duque de Caxias in the 60th.

Flamengo played a man down from the 75th after Argentine playmaker Dario Bottinelli was sent off for a hard foul.

Brazil's most popular club played without some of its regular starters to rest them for the team's Copa Libertadores match.

In Sao Januario, Argentine striker Herrera scored in the 17th and 77th minutes to help Botafogo defeat Volta Redonda 3-1.

On Saturday, Vasco da Gama defeated Olaria 2-0 in Moca Bonita, but Ecuadorean striker Carlos Tenorio sustained a ruptured Aquilles tendon in his right leg and is expected to be sidelined for six months, taking him out of this year's Copa Libertadores.

Tenorio had scored one of Vasco's goals before getting injured. Forward Eder Luis, returning from a left-foot fracture, scored the other goal for Vasco, which also played without most of its regular starters because of the Copa Libertadores this week.

Also Saturday, Fluminense defeated Nova Iguacu 3-0. Because it won the Guanabara Cup, the first stage of Rio's state championship, Fluminense has already secured a chance to play for the overall state title against the winner of the Rio Cup.

Ganso set up Santos' 58th-minute winner with a perfect pass to Ibson, who entered the area and sent the ball past Corinthians goalkeeper Julio Cesar.

The result at the Vila Belmiro moved Santos to second in the 20-team standings with 27 points, two behind Corinthians, which had been unbeaten this year coming into Sunday's match.

Adriano struggled in Santos and had only one shot on goal. He missed a great chance in the beginning of the second half, firing a shot wide of the net from near the six-yard (meter) line.

"I have to take it slowly," said Adriano, who played only a few matches this season because he has been out of shape.

Neymar had a decent performance but wasn't at the top of his game.

Santos had two goals disallowed because of offsides, one in the first half and another in the second.

Before the match, fans from both clubs fought each other and police had to be called in to end the brawl outside the Vila Belmiro.

Also Sunday, Palmeiras missed a chance to move closer to Corinthians after a scoreless draw against Sao Caetano at the Pacaembu stadium in Sao Paulo.

Despite the disappointing result at home, Palmeiras remains the only unbeaten team after 12 matches. Luiz Felipe Scolari's club has 26 points and is third in the standings. The top eight will advance to the playoff round.

Chilean playmaker Jorge Valdivia returned to the team after recovering from a muscle injury. Recently acquired Argentine striker Hernan Barcos went scoreless after scoring five times in his first six matches with the eight-time national champion.

Sao Paulo moved to fourth in the standings with 25 points by beating last-place XV de Piracicaba 1-0 thanks to a last-minute goal by midfielder Cicero.