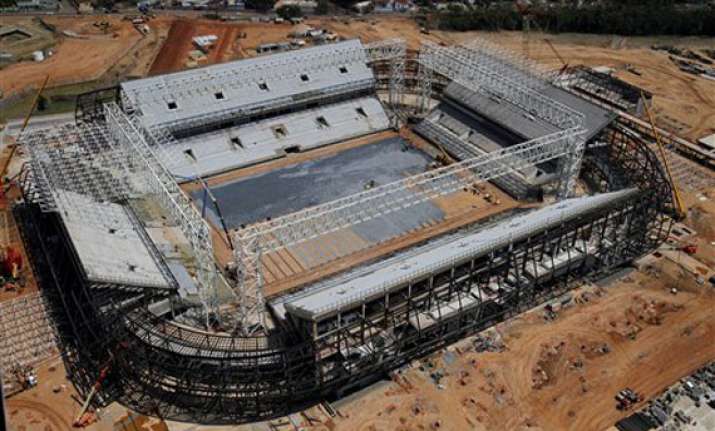 Sao Paulo: A group of about 50 protesters vandalized part of the construction site of a World Cup stadium and chanted anti-FIFA slogans during an inspection by organizers in Brazil on Tuesday.
FIFA Secretary General Jerome Valcke and other officials were met by jeering protesters when they arrived at the construction site of the Arena Pantanal in Cuiaba, a city in Brazil's central wetlands.   
The demonstrators, who were complaining about the cost of next year's World Cup and demanding improvements for local citizens, managed to gain entry to the venue and painted messages that called for "Less World Cup, more health and education."   
The protesters, mostly local teachers, carried banners reading "FIFA go home" and chanted slogans from the stadium pitch -- while FIFA and government officials continued their inspection tour from the stands. With bulldozers in the background, the demonstrators tried to disrupt the visit by blowing whistles and playing drums and other instruments.   
"People have the right to protest, but they should respect other people, like the construction workers in the stadium," Valcke said. "They have the right to protest, but it should be peaceful."   
Brazil's Sports Minister Aldo Rebelo and former Brazil stars Ronaldo and Bebeto were among those to witness the protest.   
The incident came a day after a series of violent demonstrations in some of Brazil's largest cities, including one by teachers seeking better pay in Rio de Janeiro. The Confederations Cup earlier this year was marked by a series of violent protests and more are expected during the World Cup.