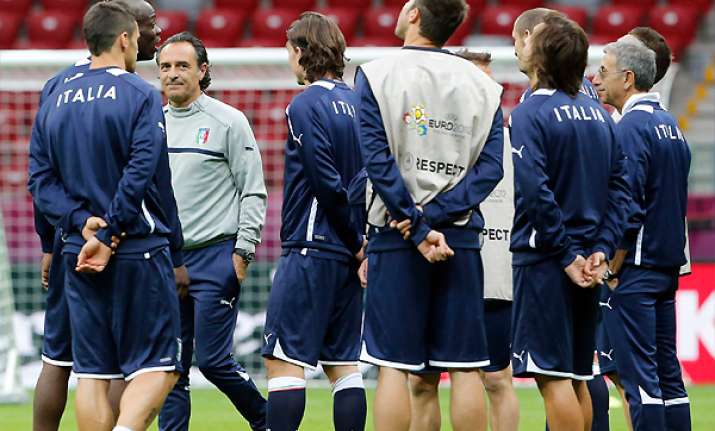 Warsaw (Poland), Jun 28: Italy coach Cesare Prandelli has some questions over his lineup for Thursday's European Championship semifinal with Germany. There's no question, though, over what type of match his team will play.
Despite facing the tournament's most impressive squad thus far, Prandelli promises his team will attack at will.
"We only have one weapon. We've got to risk something and play our game. That's our only chance. We can't turn backward," Prandelli said Wednesday. "Sincerely, when I close my eyes and dream I see fantastic things. I'm dreaming about a magical evening."
Prandelli's biggest lineup concern appears in attack, where he is reportedly considering replacing Antonio Cassano with Alessandro Diamanti alongside Mario Balotelli.
In its penalty shootout win over England in the quarterfinals, Italy produced 35 attempts on goal to England's nine and 20 shots on target to the opponents' miserable four.
However, Italy failed to score in open play against England.
"It's obvious to say it, but we've got to do better at finishing," Prandelli said.
Germany, the youngest team in the tournament, goes into the game on a 15-match winning streak in competitive matches, having scored at least one goal in each of their last 20 games at any level.
"So what do you expect us to do? Return home? No, we're going to play with them," Prandelli said. "It will be an attractive match."
Italy held a 64-36 lead over England in ball possession percentage, and also controlled for long stretches in the 2-0 win over Ireland in its final Group C match.
"We can't change now what we've developed over the last two years," midfielder Daniele De Rossi said. "That would be a mistake. Sure, we probably won't dominate the ball possession like we did against Ireland and England, because we're facing a stronger squad, but it's going to be a great and wide open match."
De Rossi appears ready to play despite exiting the England game with a sciatic nerve problem, while right back Ignazio Abate appears to have recovered from a muscle problem in his left leg.
Defender Giorgio Chiellini, who missed the England game with a left hamstring problem, could enter in the second half.
"There are always lineup doubts," said Prandelli, who had voiced concern over having two fewer days rest than Germany. "We're OK both physically and mentally now. We can't worry about that."
Prandelli has so few worries, in fact, he revealed he had a short nap earlier Wednesday.
"I guess that means I'm at peace with myself," he said with a smile.